Track star Merv Lincoln dies aged 82 in Melbourne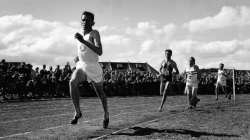 May 03, 2016
"The result was we ran the fastest time in the world on grass, we had a great race. He was a fine athlete and a fine bloke." - Herb Elliott
By Peter de Kruijff, The Border Mail
Wodonga-raised athlete Merv Lincoln, who was the 11th person in the world to run a Mile in under 4 minutes, has died at age 82.
Lincoln finished his "last race" on Sunday in Melbourne.
Newer Border residents may have heard of Mr. Lincoln because of his namesake the Lincoln Causeway but in the 1950s, his surname was synonymous with one of Australia's greatest running rivalries.
The Gippsland-born Lincoln gained fame across the country and overseas for his races against Western Australian and Mile legend Herb Elliott.
Lincoln was considered the likely successor of John Landy, the second man to run a Mile in less than 4 minutes, and was a favorite to win at the 1956 Melbourne Olympics before an injury derailed him in the finals.
Continue reading at: www.bordermail.com.au