Track star Patrick Casey eyes 2016 Olympics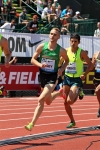 August 31, 2014
I think I have a good combination of speed and endurance and that helps with the Mile. It is a very difficult event. I will say that. It's never easy.
By Scott Mansch, Great Falls Tribune
EDITOR'S NOTE: There have been many track and field standouts in Montana history, and Patrick Casey is arguably the finest. One of the few Treasure State runners to run a sub-4 minute Mile, Casey hopes to earn a spot on Team USA and run the 1500 meters at the 2016 Summer Olympics in Rio de Janeiro. A prep star at Laurel, where he won six track and cross country titles. Casey earned NCAA All-American honors at both Montana State and Oklahoma. Now a member of the Oregon Track Club Elite, Casey has been in Bozeman recently to train. That's where Sports Editor Scott Mansch caught up with him for our Sunday Conversation.
Question: Hello Patrick and congratulations on your great career thus far.
Answer: Thank you, Scott. I appreciate it.
Q: Tell me a little bit about what you're doing now.
A: I'm taking a little down time here in Montana. I had a long season and was over in Europe for a few weeks. I'm here to visit family for a few weeks and I'll be headed back to Eugene at the end of September.
Q: You finished second in the 1500 at the USA Track & Field Championships in Sacramento a few months ago, finishing in 3:38.94. Tell me about that race.
A: I would say it was one of the better races of my career. It's hard to pick one, and say it was my best race. But it's got to be up there.
Q: I also understand you had an excellent Mile on the track in Europe recently.
A: Yes. I ran a 3:52 Mile in Dublin. A really cool meet. It was definitely one of the most exciting races for me.
Continue reading at: www.greatfallstribune.com