Trying to break a 5 minute Mile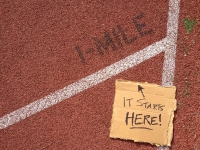 August 20, 2014
"Runners have to be tough physically and mentally. The Mile race combines both speed and endurance..."
By David Yon, Tallahassee Democrat
I am setting it as a goal for 2015 right now. If I can stay healthy, I want to be ready to race the Breakfast on the Track event next year.
There is nothing else quite like 200 or so runners gathering around the Maclay School track, waiting for their turn to run the Mile. The finishing times ranged from Matt Mizereck's 4:22.11 to 16:08.15 for the final finisher. There were 10 heats; runners were grouped based on their predicted finish times.
Of course, the golden standard in the Mile is breaking 4:00 minutes. Most of us are familiar with the story of Roger Bannister finding the speed and strength to run 3:59.4 in 1954, breaking the 4:00 barrier when it was supposed to be physically impossible. Since that time 425 U.S. runners have broken that coveted barrier and Moroccan Hicham El Guerrouj ran 3:43.13 to establish the world record in 1999.
For many local runners, the lure of breaking 4:00 minutes finds an equivalent mark of joy by running sub-5:00, 75 seconds for each of four laps around the track. There were only 13 finishers under the mark this year. One of those was Gebre Kiros.
This year was the third time the otherwise seemingly rational PhD and associate professor of epidemiology and biostatics at FAMU had put himself on the line at this race. His first two attempts at it produced finish times of 5:23, so sub-5 would take a big improvement.
Continue reading at: www.tallahassee.com