Two-Time Olympic Medalist Nick Willis Back for Another Indoor Mile Record Attempt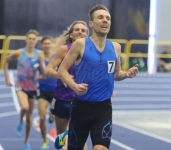 January 18, 2018
Quest for Michigan indoor Mile state record and more Mile magic will be streamed live on the Michigan Men's Track & Field Facebook page
From Michigan Track & Field
ANN ARBOR, Mich. -- After running the new University of Michigan Indoor Track Building's first-ever sub-4 minute Mile and nearly breaking the record for the fastest indoor Mile run in the state of Michigan last weekend, two-time Olympic medalist Nick Willis is coming back for an encore this Saturday, January 20.
Willis, a former NCAA champion for the Wolverines, will headline an invitational Mile field at the Simmons-Harvey Quad looking to improve on the facility record of 3:57.99 he established this past Saturday.
Following several preliminaries in the collegiate 60 meters and 60 meter hurdles that begin at 11:30am and the collegiate sections of the Mile, Willis and his elite field of competitors will take the track at 12:50pm. The remainder of the meet will see the Wolverines clashing with rivals Ohio State and Michigan State, as well as Arkansas, for the team title in the facility's first-ever scoring meet.
Admission to the meet is free of charge. For those who cannot be in Ann Arbor on Saturday, the race will be streamed live on the Michigan Men's Track & Field Facebook page.
Willis, who won bronze at the 2016 Rio Olympics and silver at the 2008 Beijing Olympics over 1500 meters for New Zealand, will be joined by his Olympic teammate and training partner Hamish Carson, who clocked 3:58.68 behind Willis last weekend.
Michigan's former NCAA steeplechase champion Mason Ferlic - who just missed the sub-4 minute mark in a career-best 4:00.31 last weekend - will also be in the field along with former NCAA All-American Brian Shrader and former NCAA Division III national champion Mitchell Black.
History could be in the offing on Saturday from multiple perspectives, beyond just the potential fall of Willis' record from last weekend.
Before both Willis and Carson cracked the 4-minute barrier last weekend, only two other indoor Mile races in the history of the state of Michigan had produced multiple sub-4 Milers, with the last coming in 1997. Never before in state history have three or more men been below 4 minutes in the same race; that came within .31 of happening with Willis, Carson and Ferlic five days ago.
Willis also just missed the record for the fastest indoor Mile run on Michigan soil by .10 of a second, allowing Tanzanian and UTEP athlete Suleiman Nyambui's 3:57.89 record from the 1979 NCAA Championships to inch another day closer to its 40th anniversary.
Should any man among the field crack the coveted 4-minute threshold, it would mark the first time the state of Michigan has seen sub-4 minute Miles on back-to-back weekends, either indoors or out. Should it be Ferlic who accomplishes the feat, he would become the 494th American man to run sub-4.
Here are the competitors, along with their season-best and career-best performances:
NAME / 2018 Best / Indoor Mile / Outdoor Mile / Outdoor 1500m
Nick Willis / 3:57.99 / 3:51.06 / 3:49.83 / 3:29.66
Hamish Carson / 3:57.94 / 3:52.47 / 3:51.82 / 3:34.26
Mason Ferlic / 4:00.31 / 4:00.31 / 4:05.82 / 3:42.28
Brian Shrader / 4:01.13 / 4:01.13 / 4:00.65 / 3:43.35
Mitchell Black / N/A / 4:09.77 / 4:06.91 / 3:47.29