U.S. Flag Borne by True Olympian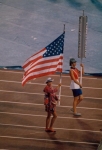 July 26, 1992
Patriotism? Discipline? Perspective? Chalk `em all up to Francie Larrieu Smith. Who better to represent what the Olympics should be about?
By Dave Hyde, Ft. Lauderdale Sun-Sentinel via Chicago Tribune
This is a story about the flag, the Olympic spirit and one proper decision that connected the two, perhaps one final time, because everything seems intent on stretching the gap these days.
It is a story about sacrifice and perseverance. It is a story with a hero but no villain.
It is a long story, 20 years long, going back to when Francie Larrieu Smith first stepped onto an Olympic track as a teenager. She remembers feeling chills ''run up and down my body like they were running the 100 yard dash.''
Saturday night, during a spectacular Opening Ceremonies in Barcelona, Larrieu Smith, now 39, stepped onto her four Olympic track in fitting style, too.
She came out in front of the U.S. team, carrying the U.S. flag and flashing a perma-press smile after benefitting from a decision that makes too much sense to have happened.
The U.S. delegation could have done the nouveau riche thing. They could have voted Magic Johnson to carry the flag. This theory was popular in many parts, especially in the foreign press, for some reason.
Everything about the Dream Team is hotter than melted butter right now. But what is Magic to the Olympics, or the Olympics to Magic? A phenomenon, yes. A marketing tool, certainly.
Truth is, Johnson and his teammates command so much attention that they will steal some of the spotlight from athletes whose biggest recognition comes once every Olympic torch, athletes such as Francie Larrieu Smith.
Maybe you don`t know her. She never has won a medal. She never has made a marquee name for herself in track, like Mary Decker Slaney or Evelyn Ashford or Jackie Joyner-Kersee.
But there is no precedent to what she has done. Twenty years, five Olympic teams and three events, the distances getting longer with age.
Continue reading at: chicagotribune.com