Vintage Mile race returns to downtown Pittsburgh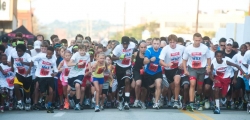 August 07, 2013
"It truly is America's premiere distance race."; GNC Live Well Liberty Mile draws top professional and Masters (40 and older) runners for Friday evening event
By Nick Veronica, Pittsburgh Post-Gazette
In the world of corporate 5Ks, half-marathons, fulls and ultras, one group is attempting to revitalize a neglected distance in the running community: the classic one-Mile race.
Made famous by Roger Bannister's first sub-4-minute Mile in 1954 and perpetuated by grade school physical education classes, the Mile represents an easily recognizable and relatable -- if cantankerously American -- unit of distance.
Pittsburgh Three Rivers Marathon, Inc. is hoping the association to the Mile, the relatively short running distance and spectator-friendliness of the tight finishes will draw avid runners and casual fans Downtown to the GNC Live Well Liberty Mile and USA Masters Road Mile Championship events the organization is putting on Friday evening, in conjunction with the Bring Back the Mile Tour.

Shunning the Olympic 1500 meter distance and the almost-a-full-Mile 1600 meter race, the Liberty Mile is a vintage one-Mile road race through the streets of the Cultural District. Starting on Penn Avenue near Sixth Street, runners race down Penn, turn right on 11th Street, then take the first right down Liberty Avenue and run back to Sixth, a slightly different course from last year.
"I've always adored the Mile," said Jordan McNamara, a pro with Oregon Track Club Elite and Nike, who took second place in last year's race.
"It truly is America's premiere distance race. It is a beautiful test of endurance and speed."
Continue reading at: www.post-gazette.com