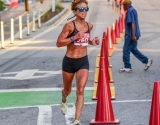 December 23, 2019
The physical education teacher learned to be nicer to herself, to take the pressure off at races and to be grateful that she's out there.
By Sarah Lorge Butler, Runner's World
For 56-year-old Marisa Sutera Strange, 2019 will go down as a banner year in a career full of them.
In February,...
Read More
comments