Kampf Defends, Chaffee Surprises at GNC Live Well Liberty Mile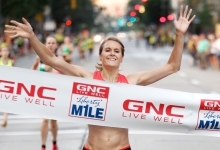 August 09, 2013
Olympian Lewy Boulet, local Berra win USA Masters titles; event record 1,200-plus participants at second edition; 11th stop on the inaugural BBTM Tour 2013
By David Monico, The Mile wire
PITTSBURGH – (August 9, 2013) – A near perfect Friday evening in downtown Pittsburgh for the 2nd GNC Live Well Liberty Mile welcomed a superb professional Mile field as well as athletes from across the United States competing in the USA Masters 1 Mile Road Championships. When the dust settled from the Mile thoroughbreds it was Heather Kampf (MN) who defended her title in an event record 4 minutes 32 seconds, while Macklin Chaffee (CO) was a surprise winner, clocking 4:01 in the Men's race and edging race favorite Jordan McNamara. In the Masters races (40 and older), Magdalena Lewy Boulet, 40, CA and Nick Berra, 44, PA, ran away from the fields in 4:50 and 4:28 respectively.
At 7:50pm, the professional women took to the downtown streets where Kampf, 26, was the clear pre-race favorite with her nose for the finish line that has given her the nickname, "Queen of the Road Miles". However, she would be challenged by 2012 Olympian Geena Gall (OR) and USA Indoor 3000m champion Chelsea Reilly (CA).
After the pack came through in a relatively slow first half-mile in 2:20, it was off to the races as Kampf, Reilly, Chemtai Rionotukei (KEN) and Nicole Schappert (NJ) broke away from the pack.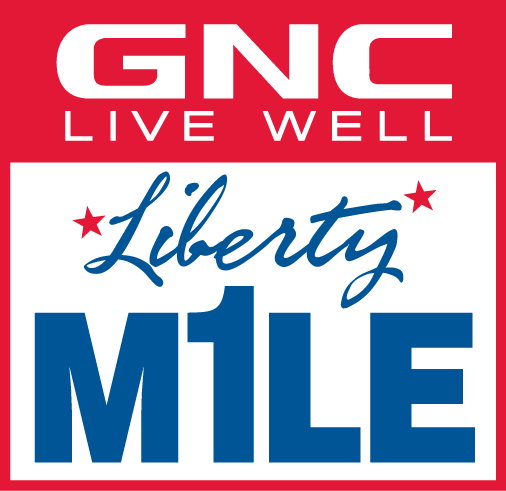 "It was a really nice night and leading up to it we didn't know what to expect with it raining off and on all day," stated Kampf. "The pack stayed tightly bunched coming through in 67 for the first quarter and then I heard 2:20 for the half and thought, 'whoops what did we do there'. Chelsea put in a really strong move coming off the last right hand turn and it was just a matter of staying in contact and pushing. I just found out yesterday that my dog Ricky has cancer and we had to put about $1000 into medical bills yesterday, so the kick today was for Ricky and I was so proud I could pull it off for him and hopefully we can take care of him the best we can."
Kampf in the end was too much to handle as she closed in a 2:11, lowering her event and City of Pittsburgh record to 4:32. Reilly was runner-up in 4:34, while Rionotukei just edged out Schappert 4:35.10 to 4:35.15 (official time 4:36 each per USATF rule).
Kampf will next be attempting a 'BBTM Tour' double as she will compete in the Falmouth Mile tomorrow evening in Massachusetts.
"As long as I can get some good sleep tonight and try to get more on the plane tomorrow I think it can go well. I'm approaching it like a prelim, final situation going into tomorrow. I'm taking it one day at a time. What ever happens tomorrow is a cherry on an already good trip."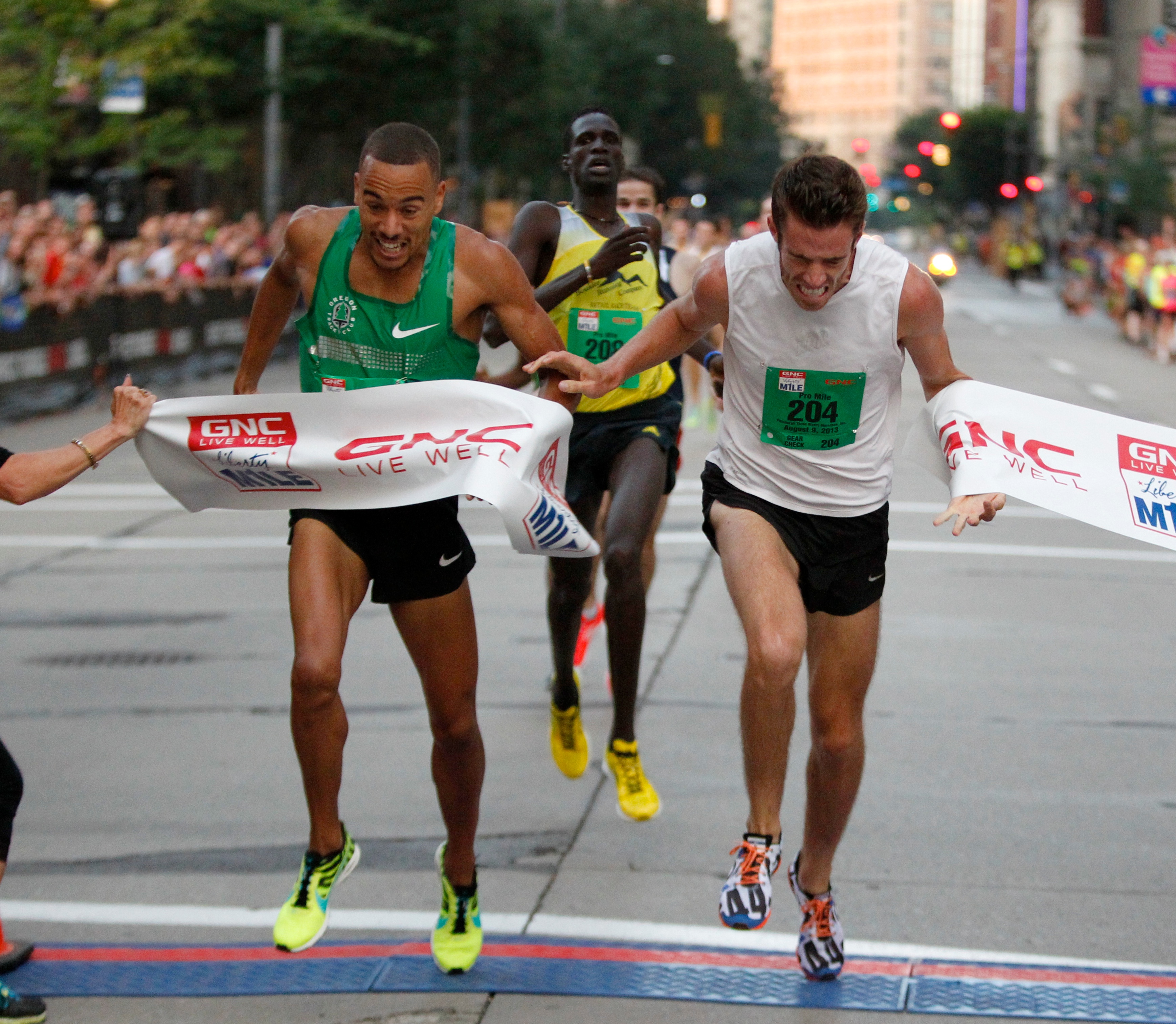 In the final race of the evening, the Men's professional Mile once again did not disappoint the Pittsburgh fans, who lay claim to America's greatest sport city. 2012 runner-up Jordan McNamara, 26, who has had a banner season setting a personal record of 3:52.42 in the Mile just two weeks ago in London, was a heavy favorite. However, after a 56 second first quarter Mile by Girma Gebre (ETH) this foot race was going to be anything but a normal evening. Gebre would lead the field through the half in 1:56 and three-quarters of a Mile in 2:59.
"I couldn't even see Gebre at the quarter. We weren't sure if he was a rabbit or if he was a 3:40 Miler, but I just kept my eyes on three guys. I knew Daniel Clark could blow the doors off people in the last 400; Miles Batty is really fast; and McNamara is coming off a European season that is a Miler's dream," recounted Chaffee.
With just over 300 yards to go, the hard charging pack, reminiscent of a Tour de France peloton, would catch Gebre with McNamara, Chaffee (CO), Dey Dey (CO), Clark (MI) and Batty (UT) all ready to make their move for the finish. A raucous Liberty Avenue crowd, who waved Big Heads of their favorite athletes (see video), brought them home in an electric photo finish between McNamara and Chaffee (pictured above right).
"I took the lead with 300m to go and nobody was coming up on me, but I realized the finish was far away. With 50 meters to go I was on my last legs and I couldn't believe nobody moved past; I felt like I was going nowhere," said the happy, but exhausted Chaffee, who took home $4000. "That was the first time I've won a big race against people I really consider to be outstanding Milers. This is incredible; this is the moment in my running career thus far in terms of the 'next step'; it feels really good. Story of my career has been finishing second at the national level."
Chaffee, 26, earned the surprise victory over McNamara, 4:00.49 to 4:00.52 (official time 4:01 for the nearly inseparable pair), while Dey and Clark also finished closely in 4:01.2 to 4:01.5 (4:02) respectively.
A humbled McNamara, who served as the honorary Summer Dreamer's Academy captain in Pittsburgh, looked for the athletes whom he inspired this week for photo ops and final words of encouragement.
"It was such an incredible week out here in Pittsburgh, spending time with the these kids and then getting the opportunity to race in this electrifying atmosphere," commented McNamara (left).
In the USA Masters 1 Mile Road Championships more than 100 athletes convened in Pittsburgh for a memorable evening of racing. A stacked women's race witnessed 2008 Olympic marathoner Lewy Boulet run away with the overall title in 4:50 over defending champion Sonja Friend-Uhl (42, TN) who finished in 4:53. On the Men's side Berra, a middle distance specialist, cruised to a 4:28 win over Philippe Rolly (40, MD) runner-up in 4:31.
"If everything came together I was hoping for low-4:20s, which would be a PR for me, but coming through the half in 2:16, I knew that was out of reach. I then focused on getting the win and coming off the turn I wasn't too challenged and saved an extra gear just in case," stated Berra, who pocketed $600 as USA Masters champion. "As a track guy, most of the road championships are out of my range and for the Liberty Mile and USATF to add a road Mile it was in my wheel house and I'm glad they did it; I wasn't going to miss this fo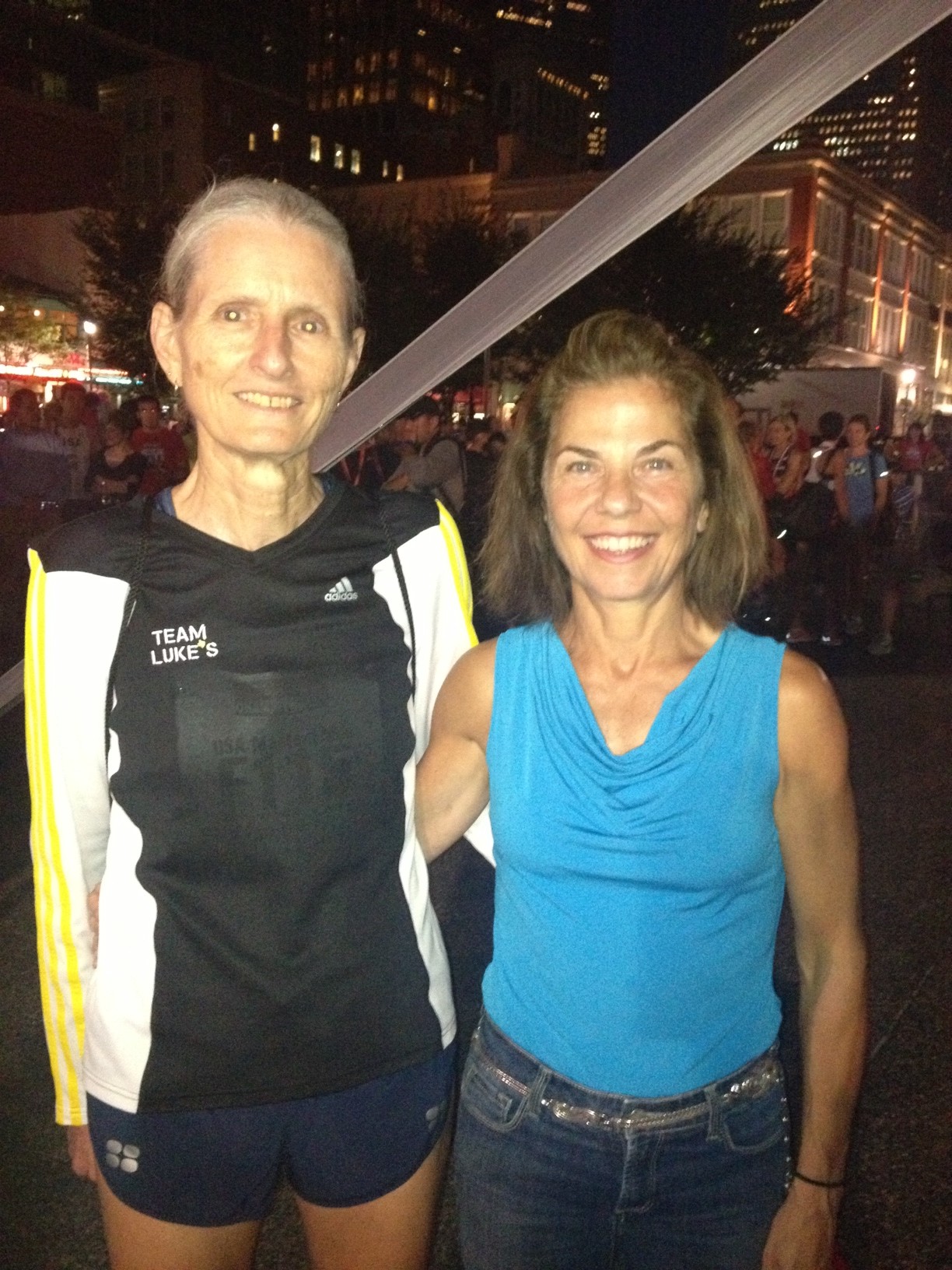 r anything."
The USA Masters 1 Mile Road Championships also featured an age-graded competition where times were ranked per one's age based on a factor determined by the World Masters Athletics. An age-graded percent of 90% or greater is considered world class, and at the national championship, 20 Masters (8 men and 12 women) scored 90% or more. Thomas Dever, 56, of Terre Haute, IN was the top male (92.73%) with his 4:50 Mile, while Masters studettes Sabra Harvey, 64, Houston, TX and Kathryn Martin (photo right), 61, Northport, NY were the belles of the ball breaking 100% age-graded with their 5:48 and 5:44 Miles respectively.
2nd GNC Live Well Liberty Mile
Pittsburgh, PA, Friday, August 9, 2013
MEN
1) Macklin Chaffee (CO), 4:01, $4000
2) Jordan McNamara (OR), 4:01, $2500
3) Dey Dey (CO), 4:02, $1500
4) Daniel Clark (MI), 4:02, $800
5) Girma Gebre (ETH), 4:03, $500
6) Miles Batty (UT), 4:04, $325
7) Tony Jordanek (OH), 4:05, $150
8) Liam Boylan-Pett (NJ), 4:06, $100
9) Ben Bruce (AZ), 4:07, $75
WOMEN
1) Heather Kampf (MN), 4:32*, $4000
2) Chelsea Reilly (CA), 4:34, $2500
3) Chemtai Rionotukei (KEN), 4:36, $1500
4) Nicole Schappert (NJ), 4:36, $800
5) Geena Gall (OR), 4:36, $500
6) Lauren Johnson (OR), 4:40, $325
7) Ludmila Stepanova (RUS), 4:45, $150
8) Joan Tangwar (WV), 4:47, $100
9) Susan Jerotich (NC), 4:50, $75
*Event record (previous, 4:36, Heather Kampf (MN), 2012)
USA Masters 1 Mile Road Championships
MASTERS MEN
1) Nick Berra (44 / PA), 4:28, $600
2) Philippe Rolly (40 / MD), 4:31, $300
3) Birger Ohlsson (45 / NY), 4:34, $200
MASTERS WOMEN
1) Magdalena Lewy Boulet (40 / CA), 4:50, $600
2) Sonja Friend-Uhl (42 / TN), 4:53, $300
3) Mardrea Hyman (40 / NM), 4:55, $200
Age-Graded
MASTERS MEN
1) Thomas Dever (56 / IN), 4:50, 92.73%, $500
2) Budd Coates (56 / PA), 4:53, 91.70%, $300
3) Gary Patton (67 / IA), 5:22, 91.68%, $200
4) David Noyes (53 / PA), 4:46, 91.33%, $100
MASTERS WOMEN
1) Sabra Harvey (64 / TX), 5:48, 105.33%, $500
2) Kathryn Martin ( 61 / NY), 5:44, 101.97%, $300
3) Barbara Broad (62 / OH), 6:05, 97.47%, $200
4) Doreen McCoubrie (51 / PA), 5:18, 95.60%, $100
For complete results and more, go to: LibertyMile.org