Whittni Orton breaks BYU Mile record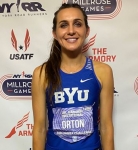 January 29, 2020
Cougar senior clocks first sub-4:30 Mile to finish second at Dr. Sander Invitational in New York City
From BYU
NEW YORK – All-American Whittni Orton shattered BYU's indoor all-time record in the Mile by nearly five seconds, clocking a time of 4:29.76 and earning the top mark in the NCAA at the Dr. Sander Invitational on Saturday, January 25.
"We accomplished a lot of what we wanted to at this meet," BYU head coach Ed Eyestone said. "One of the main reasons we travel to New York is to get a big meet experience. It helps to prepare us for later on in the season. We were rewarded with some outstanding performances, highlighted of course by Whittni Orton's school record in the Mile."
Orton broke the indoor Mile record on her way to placing second in the women's Mile invitational. With her time, Orton currently holds the NCAA-leading mark in the women's Mile. She crossed the line right after professional adidas runner Nikki Hiltz who ran a world leading 4:29.39 Orton's time of 4:29.76 broke the previous record of 4:34.59 set by Erica Birk-Jarvis in 2019. This is Orton's second all-time record of the 2020 indoor season. She also holds the record in the indoor 5000m (15:22.98).
"Whittni had a great race in the invitational section with professionals," Eyestone said. "She ran the 14th-fastest indoor time ever by a collegiate woman runner, which is outstanding."
Orton also became the 82nd U.S. woman to clock a sub-4:30 Mile, a benchmark standard.