Why Running Fans Care About Mary Cain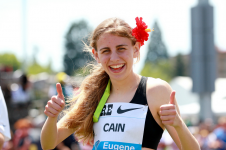 October 13, 2015
A quick look at the record-setting teen phenom's career highlights.
By Scott Douglas, Runner's World
Not since Alan Webb was a high school Miler has a teen runner garnered as much attention as Mary Cain.
Now a 19-year-old college sophomore, Cain started to become known when she set the U.S. high school freshman 1500 meter record in 2011. The following year, the New York resident took the unconventional route of skipping high school competition and racing against world-class adults while being advised remotely by Nike Oregon Project coach Alberto Salazar.
Her subsequent improvement curve was steep. She set several high school and/or junior records, and won an open national title and a junior world championship. Cain was an undeniable feel-good story for the sport; even the mainstream media, including the New York Times Magazine, covered her.
Continue reading at: runnersworld.com