Will Another Former Iowa Prep Win the NCAA 1500 Meter Title?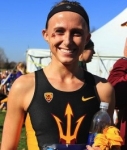 April 08, 2013
By Next Level People
Sioux City East and Arizona State standout Shelby Houlihan has made a significant statement during her sophomore season this year. She was an All-American in cross country with a 31st place finish in the fall. She won the Mile at the MPSF meet (Pac-12's Indoor Championships) and qualified to the NCAA Indoor Championships in the 800 where she suffered a fall in the prelims. Despite a gutsy effort to get up and finish, Houlihan did not advance to the final nor earn All-American honors.
The Iowa All-Time record holder in the 800 and 1500 ran a huge 1500 meters PR of 4:13.64 at the Sun Angel Classic this past weekend, destroying the ASU school record of 4:17.98, which stood since 1999.
Shelby moved to the top of the 1500 rankings ladder, bumping Utah's Amanda Mergaert (4:17.22) from the top rung.
Continue reading at: nextleveliowa.com