Will Running 1 Mile a Day with Zuckerberg Actually Make You Healthier?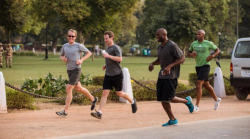 January 13, 2016
Providing an achievable goal for those starting from scratch is commendable and bolstered by the fact that several studies in recent years have suggested that very moderate amounts of exercise can have significant health benefits.
By Martin Fritz Huber, Outside Magazine
To kick off the new year, the Facebook CEO started a public group called A Year of Running. In a post to his personal page that included a pic of him and a couple other Facebook execs plodding along, smartphones in hand, Zuckerberg challenged his 47 million followers to run 365 Miles in 2016.
"This is a lot of running, but it's not a crazy amount," he wrote. "It's a Mile a day, and at a moderate pace it's less than 10 minutes of running per day."
Although I'm sure thousands of others have already beaten me to the punch, I need to take what will likely be my only opportunity to correct "Zuck" in matters of numerical precision. 2016 is a leap year and has 366 days. So, technically...
Continue reading at: outsideonline.com