Winners take Rockford State Street Mile in under five minutes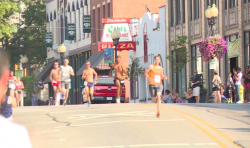 August 02, 2015
"People identify with this race, it's good for the running community... and the high school with the most participation of students and staff won $1,000 toward their athletic department."
By Kelsie Passolt, WREX
Saturday, a short race brought a long list of runners to downtown Rockford. We caught up with some of the victors on their experience in the "Fastest Mile in the Midwest."
"Relieved to be done, I've been watching this race since I was a kid, feels good to run with the old guys. It was nice to come in first," says the men's Masters Race winner Jamey Whitlow of Bloomington.
Women's Masters Race winner Jessica Iasparro of Rockford says, "I love the feeling like my heart is going to explode and making my legs go as fast as they can for a really short time."
Iasparro and Whitlow both won the 40 and older division, the Masters races, at the State Street Mile. Jamey won the men's title with under a five-minute Mile, 4:59, Jessica was just over five minutes, 5:09. Both say that this event is well known in the running community and it's important to have in Rockford.
Continue reading at: wrex.com