With drums pounding and fans lining the track, Robby Andrews gets the standard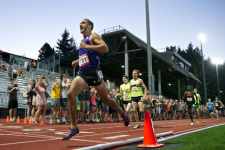 July 03, 2015
There was no jostling, just a straight line the whole the way. I sat on the cheese the whole time. Everything worked out the best way it possibly could.
By Ken Goe, The Oregonian
Spurred on by several hundred fans and an dance team, Robby Andrews did what he needed to do Thursday night in the Portland Summer Twilight track meet at Lewis & Clark College.
Andrews won the 1500 meters in 3 minutes, 35.82 seconds, dipping beneath the World Outdoor Championships qualifying standard of 3:36.20.
"We had awesome pacesetters and an awesome field," Andrews said.
The atmosphere was pretty good, too. Meet organizers brought the fans out of Griswold Stadium and onto the track. Drummers from Lee's Association Lion Dance Team were on the infield, pounding drums as the runners passed..
There were two official pace setters, Mark Wieczorek and Nolan Bylenga. David Torrence, who finished second in a photo finish of the earlier 800, jumped in to help.
Continue reading at: www.oregonlive.com