With focus & courage, Simpson seeks another World Championship medal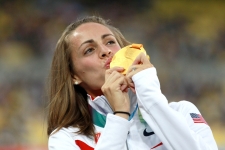 September 17, 2019
"To be good for this long you have to be doing just about everything right. You can't take shortcuts on anything."
By Michael Sandrock, Daily Camera
Most years, the New Balance 5th Avenue Mile has been an end-of-the-season treat for Jenny & Jason Simpson, coming after the Olympic or IAAF World Athletics Championships, followed by prestigious races on the European Diamond League circuit.
This year, however, is different, as the 2019 World Championships in Doha, Qatar, are set for Sept. 27 through Oct. 6, nearly two months later than normal, because of the high heat athletes will face.
Jenny Simpson, a gold and two-time World silver medalist in the 1500 meters (2011, 2013 & 2017, respectively), punched her ticket to the World Champs for the seventh consecutive time by placing second at the recent USA Championships. Joining Simpson in Doha will be her former University of Colorado teammate Emma Coburn, the defending 3000m steeplechase gold medalist, along with Tinman Elite racer Sam Parsons, representing Germany.
To Jenny Simpson's long resume, add in three Olympic Games, including the 2016 Rio Olympic bronze medal (Coburn also took bronze, in the steeple), along with 11 USA titles and three NCAA titles, and few would dispute ranking her among the best U.S. runners ever.
And all this before her 33rd birthday, which she just celebrated.
"I know of no other middle or long distance runner who has stayed at a World and Olympic level as long," Simpson's coach since her CU days, Mark Wetmore, wrote in an email. "Some of it is certainly talent and genetics, but some is also focus and courage.
"She is a professional all day, every day, year round."
The myriad fans of Simpson and Coburn will be glued to their streaming devices next month to see if the pair can pull off medals once again. At the World Championship level, all of the entrants have talent and genetics. Winning a medal requires the "focus and courage" Wetmore mentioned.
Continue reading at: dailycamera.com
Below: Jammin' Jenny in full stride to her 2011 world 1500m title in Daegu, KOR. CREDIT: PhotoRun.net