Wolverines learn to lap up 'Michigan Mile'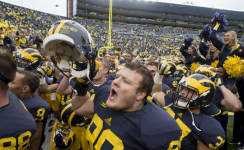 September 29, 2015
"It's a good way to make the body feel better. It's good to run. I think distance running does that. You have to coordinate your whole mind and body with some distance running."
Angelique S. Chengelis, The Detroit News
Michigan football players don't love it, but they are embracing the "Michigan Mile."
Michigan coach Jim Harbaugh has the Wolverines run a Mile each Monday as a way to reengage body and mind as they prepare for another week of practice and game.
The No. 22 Wolverines (3-1) open Big Ten play at Maryland (2-2) on Saturday in a prime-time game.
"it starts the week off the way you want it," offensive lineman Kyle Kalis said Monday at Michigan's weekly news conference. "It's the first chance to compete at anything that week, really. Gets a little sweat going.
"It's not my favorite thing, I will admit, but it's definitely a good starting point for the week."
Harbaugh said running the Mile on Mondays accomplishes a few things.
Continue reading at: detroitnews.com