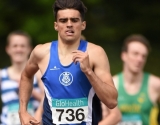 July 09, 2020
"I am thinking, can I break that record? Can I make that jump up in performance? There's no reason that I can't."
By Ian O'Riordan, The Irish Times
It's Dream Mile night, Oslo, Norway, and at the bell Ray Flynn is right on the heels of John Walker and Steve Scott, all three running somewhere...
Read More
comments