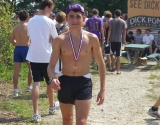 April 25, 2016
"We can honor his life and honor everyone's friendships by coming together again."
By Marie Wilson, Daily Herald
Ben Silver of Downers Grove was a lot of things during his 22 years, and one of them was a runner.
He was a teammate, captain, competitor and all-state athlete running track and...
Read More
comments