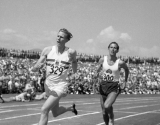 June 08, 2015
46 days after Sir Roger Bannister broke the 4 minute Mile, his world record fell to John Landy. Here the athlete reflects on the day he won back his title.
By Roger Bannister, The Telegraph
This photograph captures the moment I overtook the Australian runner John Landy on the final bend at...
Read More
comments