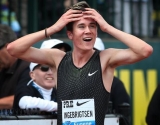 October 02, 2018
Teen phenom from Norway became a "professional" runner as a child. Is that a recipe for future success?
By Martin Fritz Huber, Outside
There was no major international championship during the 2018 outdoor track & field season, but there was still a doozy of a story: a 17-year-old Norwegian...
Read More
comments