Teen prodigy Ingebrigtsen's tale comes of age at European Championships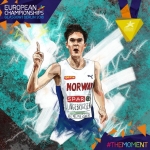 August 13, 2018
"Winning a second title in two days is the result of having done this my whole life. It was a little crazy to get this medal. This is huge."
By Cathal Dennehy for the IAAF
It was the golden double that rippled around the world, a feat of athletic mastery most could only dream of at any stage of their careers, never mind at the tender age of 17.
But sit Jakob Ingebrigtsen down and ask him just how he became this good, this early, and the Norwegian is happy to elaborate and explain why his is an otherworldly talent that has not just been born, but also made.
"I've been a professional runner since I was eight, nine, 10 years old," he says. "I've been training, dedicated and following a good structure – the same as my brothers – from an early age.
"Not too much," he adds, "but a lot compared to runners in Norway. That's the main reason."
For years he has been on the radar of anyone with a finger to the pulse of underage athletics, but when Jakob completed the 1500m / 5000m double this past week at the European Championships in Berlin, his star truly went supernova.
But to understand how he got here, you have to rewind more than a decade, back to an underground car park in Sandnes, Norway – the hometown of the Ingebrigtsens – where it's 7:10am, dark and cold.
It's the kind of time most would understandably be wrapped up in bed, but here was Jakob, strapped to a pair of cross country skis, learning his balance as older brothers Henrik & Filip completed lap after lap after lap around the perimeter.
"Three years old!" says his father Gjert. "Talented boy."
Continue reading at: iaaf.org