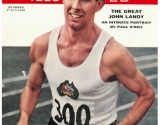 May 21, 1956
Gentle John Landy, after one of history's fastest Mile times, could feel only sadness and defeat. Here is the story of an amazing, dedicated athlete—and an amazing human being: "I'd rather lose a 3:58 Mile than win one in 4:10."
By Paul O'Neil, Sports Illustrated
The townspeople of Fresno,...
Read More
comments