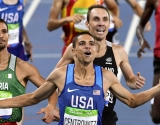 April 11, 2017
This year, in my eyes at least, there is a bigger emphasis on running fast. I think the Worlds will take care of themselves.
By Jon Hendershott, Track & Field News
He may be the Olympic gold medalist in the metric Mile, but Matthew Centrowitz admits he is still learning how to run the 1500.
...
Read More
comments