The Best Mile Moments of 2016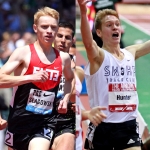 December 28, 2016
Two more U.S. high school boys go sub-4, Drew Hunter and Michael Slagowski; two historic Olympic 1500 medals won in Rio by Matthew Centrowitz (gold) and Jenny Simpson (bronze); $480,000-plus record prize money awarded; third BBTM Grand Prix Tour sets records and more highlight banner year
By Ryan Lamppa, Bring Back the Mile
The Mile, including the metric Mile (1500 meters), continued its momentum in 2016. Since the launch of the Bring Back the Mile campaign in 2012, the storied distance, the events and the athletes have all seen a revival in interest and coverage. Overall, there are more events, opportunities and prize money for middle distance runners compared to the past couple of decades, and put simply, 2016 was truly a banner year: one for the record and history books.
Like the past 4 years, in 2016, there were a bevy of Mile highlights with great moments and historic, golden achievements. Below is a snapshot summary and chronological order of the best of The Best of the Year.
FAST FACTS
• Mile event prize money, for the fifth consecutive year, increased, and again by double digits percentage-wise from $391,215 in 2015 to $487,750 in 2016 (25% growth) with an impressive 252% increase since 2012 ($138,750).
• This year at least 36 new Miles were launched, awarding nearly $35,000 in prize money.
• For the first time in the same year, two U.S. high school boys went sub-4 more than once (Michael Slagowski, twice, and Drew Hunter, thrice - photo above right) – bravo!
• An annual record of 27 U.S. men clocked their first sub-4 minute Mile in 2016 (on the track); previous mark was 24 in 2015.
• For the 11th consecutive year, the first sub-4 U.S. number again reached double digits with an average of 23 first-timers since 2012.
• An annual record 10 U.S. women also ran their first sub-4:30 Mile in 2016 (previous mark was 8 in 2014).
• Worldwide, 77 women went sub-4:36, the most over the past 5 years (59 individuals in 2014, second best).
• For the year, the NJ*NY Track Club trio of Colby Alexander, Johnny Gregorek and Kyle Merber produced the most sub-4s on the track with 5 each, while Amanda Eccleston (USA) had the most sub-4:30s, with 4.
• The third edition of the Bring Back the Mile Grand Prix Tour featured 6 top U.S. Mile races with a record Tour prize purse exceeding $140,000, and Heather Kampf three-peated as champion, while Riley Masters took the men's GP title. In addition, the Tour 2016 produced one state record and five event records.
More Camel City Elite Mile magic – January 30
The 4th Camel City Elite Mile at the JDL Fast Track in Winston-Salem again produced world class performances as Matthew Centrowitz shattered Cory Leslie's North Carolina indoor and absolute state record with his 3:54.02 clocking, while Leslie finished under the 2015 mark of 3:56.99 with his runner-up 3:56.25. At the BBTM Grand Prix Tour opener, two-time Olympian Shannon Rowbury also defended her event title with a world-leading 4:26.01.
Drew Hunter joins select Sub-4 Club – February 6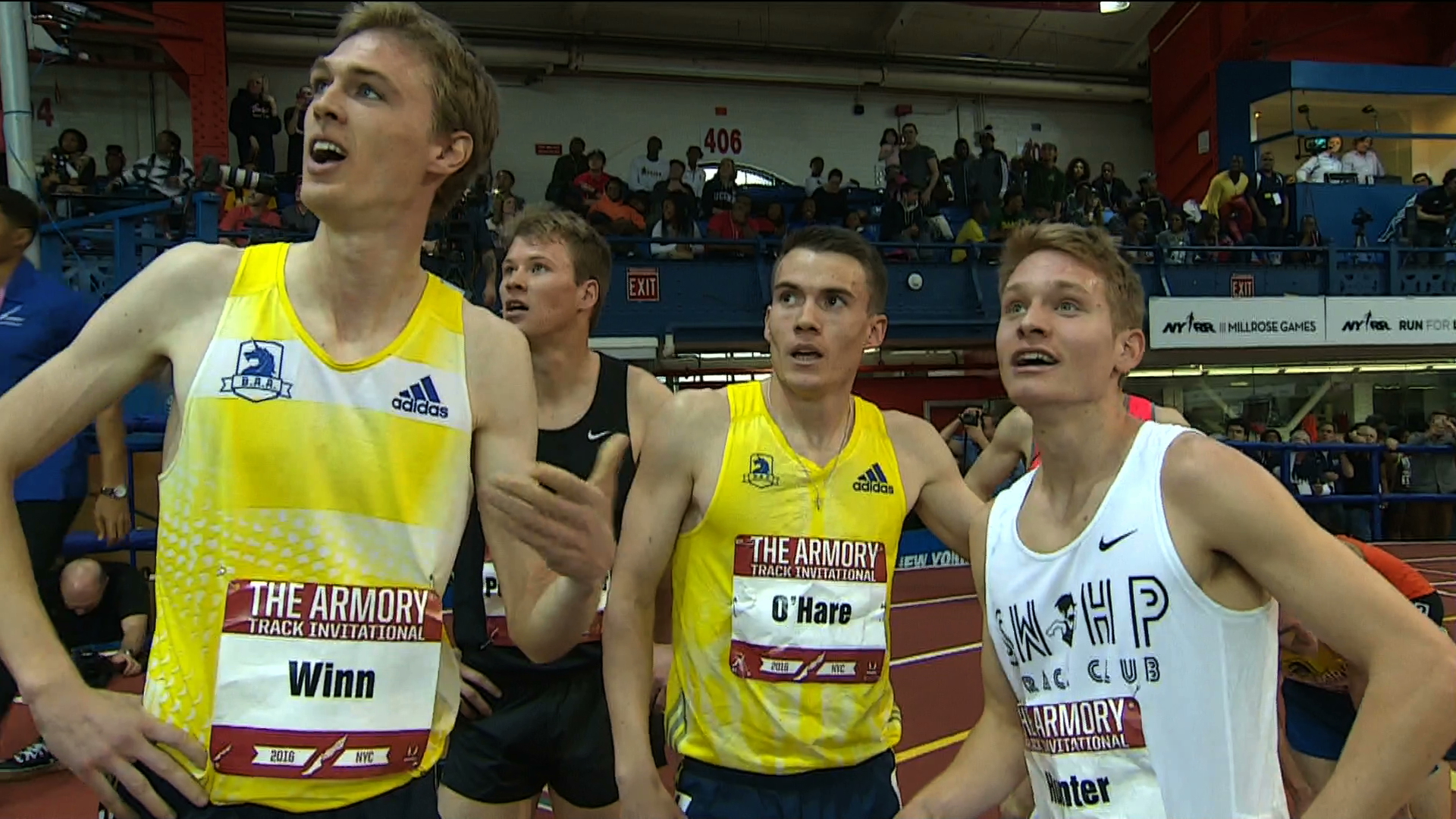 At the Armory Invitational in New York City, Drew Hunter (photo, far right), 18, became the 8th U.S. high school boy to break 4 minutes – and only the second indoors – with his 3:58.25 to finish 7th overall in the Open race. The Loudoun Valley HS senior also broke fellow Virginian Alan Webb's U.S. HS indoor Mile of 3:59.86 set in 2001 at the Armory.
Dibaba destroys longest standing Mile record – February 17
At the Globen Galen indoor track meet in Stockholm, Genzebe Dibaba of Ethiopia shattered the longest standing Mile record, 4:17.14 by Romania's Doina Melinte (1990), with a stunning 4:13.31 performance; only Svetlana Masterkova of Russia has a faster track Mile (4:12.56 WR from 1996).
Centrowitz, Rowbury retain Wanamaker Mile titles – February 20
In a wonderful display of controlled racing, U.S. Olympians Matthew Centrowitz and Shannon Rowbury defended their NYRR Wanamaker Mile crowns. Centrowitz again beat Nick Willis at the Armory, this time, 3:50.63 to 3:51.06, for his third event win. Centro is now the 4th fastest man ever indoors in the Mile, while Willis broke his own New Zealand indoor record (#8 man indoors). Rowbury went unchallenged for the victory, clocking 4:24.39 and leading 7 other women under 4:30. NOTE: Centrowitz's time proved to be the fastest of the year, the first time in the sub-4 era that the fastest track Mile recorded for the year was indoors.
Earlier in the meet, Johnny Gregorek won the Invitational Mile in 3:56.57 to lead eight men under 4 minutes including high school superstar Drew Hunter, who broke his own HS national record with a 3:57.81, good for 4th overall. Hunter is the only U.S. HS boy to run two sub-4s under the roof, and only Mile legends Alan Webb (3:53.43 in 2001) and Jim Ryun (3:55.3 in 1965) have run a faster Mile while in high school.
Rainsberger runs fastest HS girls-only Mile – March 13
At New Balance Nationals Indoor in New York City, senior Katie Rainsberger of Colorado Springs, CO won the U.S. high school indoor Mile title, clocking a meet and HS girls-only record of 4:36.61. Previous absolute HS girls-only record was 4:36.95 by Sarah Bowman (now Brown) run outdoors in Greensboro, NC on June 18, 2005. Junior Kate Murphy of Burke, VA was runner-up in a fast 4:39.47. Rainsberger's mother is Lisa (nee Weidenbach), the last American woman to win the Boston Marathon (1985).
Centro strikes gold at World Indoors – March 20
At the World Indoor Championships in Portland, OR, Matthew Centrowitz won a thrilling men's 1500 meter race in front of a sold-out, rabid crowd. Centro held off Jakub Holusa (CZE) and Nick Willis (NZL) in a near blanket finish, 3:44.22 to 3:44.30 to 3:44.37, for the first U.S. men's world 1500 title. Teammate Robby Andrews closed well to finish fourth to just miss the podium, recording 3:44.77.
Slagowski also joins the Club – April 29
Senior Michael Slagowski of Rocky Mountain High School (ID) became the 9th U.S. prep and only the third in a high school-only competition to break 4 minutes, clocking 3:59.53 at the Nike Jesuit Relays in Portland, OR. His previous PR was 4:05.71, and his impressive performance also marked the 4th sub-4 Mile by a U.S. HSer in the past calendar year and second in 2016 (also Drew Hunter, see above).
Two U.S. High Schoolers go sub-4 same day! – May 28
At the Prefontaine Classic in Eugene, OR, for the first time ever on the same day, two U.S. high school boys – Michael Slagowski & Drew Hunter – clocked sub-4 minute Miles, 3:59.78 and 3:58.86, respectively, but in two different Mile races. Also, it was the first time two U.S. HSers produced multiple sub-4s in the same year, Hunter (third mark) and Slagowski (second). America's got Mile talent!
Ed Whitlock, 85, clocks 7:18 Mile! – June 10
At the Cambridge Classic Mile in Canada, Masters legend Ed Whitlock, 85, shattered the Mile world record for the 85-89 age group, clocking an impressive 7:18.55 (an age-graded 3:52.8 Mile). Previous record was 8:04.7 by Josef Galia, 87, of Germany in 1985. The Milton, Canada resident ran in racing flats on an "old school" dirt track. Bravo, Ed!
Centro, Simpson U.S. Olympic Trials 1500m champs, thrilling third place drama – July 10
At the U.S. Olympic Track & Field Trials in Eugene, Ore., Matthew Centrowitz and Jenny Simpson booked return trips to the Olympics with convincing victories over stellar fields. Centrowitz, 26, a former Oregon duck, controlled the men's race and set a Trials record of 3:34.09 to break legend Steve Scott's 198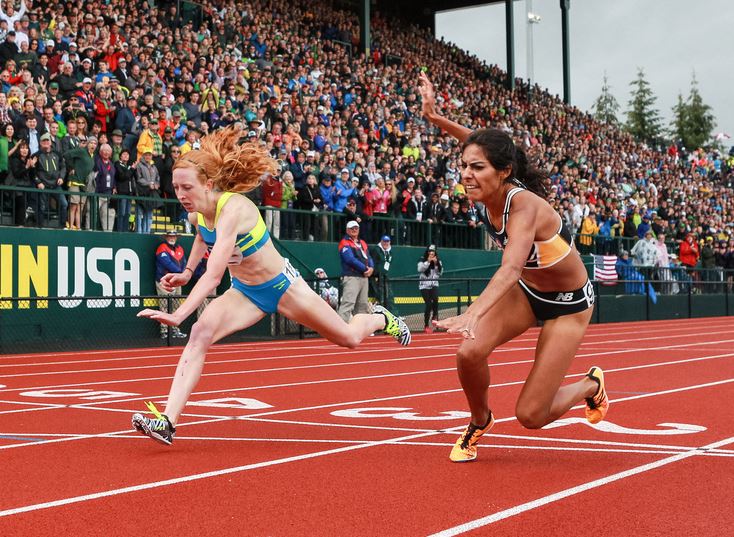 0 mark of 3:35.15, while 2011 world 1500m champion Simpson, 29, cruised to a 4:04.74 clocking. Robby Andrews and Shannon Rowbury were clear runners-up in 3:34.88 and 4:05.39.
In both metric Mile races at storied Hayward Field, with thrilling final strides, the drama unfolded for the coveted final Olympic team berth, third place. Ben Blankenship held off 2012 Olympic 1500m silver medalist Leo Manzano, 3:36.18 to 3:36.62. For the women, Brenda Martinez (photo, above right), who fell during the Trials 800 meter final, and Amanda Eccleston (photo, above left) both dove at the finish line with Martinez just edging Eccleston, 4:06.16 to 4:06.19.
Andrews, Blankenship and Martinez also earned their first Team USA Olympic kits.
Americans sweep Morton Games Mile – July 22
At the Morton Games Mile in Dublin, Ireland, winners Johnny Gregorek and Katie Mackey led an American sweep of the classic event, breaking the beam in 3:55.57 and 4:25.48, respectively. Mackey's time was also a meet and personal record (#12 U.S. woman all-time). In addition, eleven men went sub-4 and 12 of the 13 female finishers recorded outdoor Mile PRs.
Aragon earns 1500m bronze medal at World U20 Championships – July 24
At the IAAF World U20 Championships in Bydgoszcz, Poland, Christina Aragon won the bronze medal in the 1500 meters, clocking a personal record of 4:08.71, while teammate Alexa Efraimson finished the fifth (4:10.23). Aragon's 1500 hardware was the first by an American girl at this meet (formerly the World Junior Championships). America's got talent, youth Mile talent!
Sir Walter Miler record romp – August 5
At the third Sir Walter Miler in Raleigh, NC, with 2,000 fans, many on the Meredith College track, Kyle Merber & Lauren Johnson won their respective races in 3:54.87 and 4:25.04 to also set personal, meet and outdoor North Carolina records. Merber led 8 other U.S. men under 4 minutes (the second most in the same race), while Johnson pulled 5 U.S. women sub-4:30. In addition, Mikey Brannigan set a Paralympic World Record with his first sub-4, clocking 3:57.58. What a night for the Mile in America!
Simpson makes USA 1500m Olympic history! – August 16
Jenny Simpson, with a closing flourish, won the 1500 meter bronze medal at the Rio Olympics, the first Olympic medal by a U.S. woman in the metric Mile, breaking the beam in 4:10.53 to make history. Her teammate and rival Shannon Rowbury finished right behind, clocking 4:11.05 for fourth. Brava, Jenny & Shannon!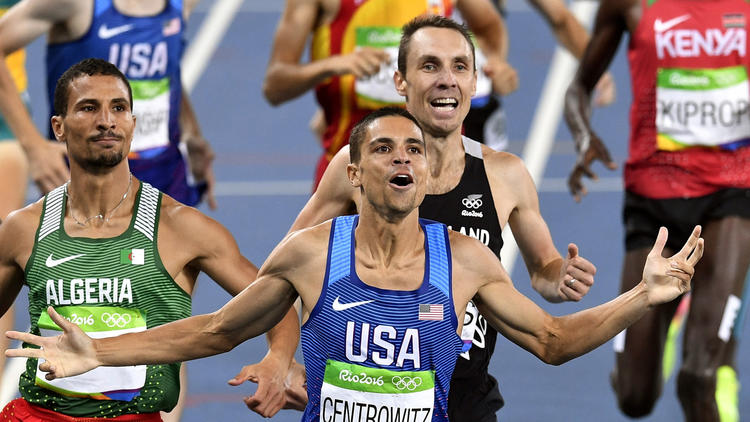 Centrowitz strikes Gold in Rio Olympic 1500! – Aug 20
Matthew Centrowitz (left), in a tactical race, closed smartly with a sub-51 second final lap to win the first U.S. Olympic 1500 meter gold since Mel Sheppard (London 1908), clocking 3:50.00. Ben Blankenship was 8th in his first Olympic final. After the race, Cento was saying to anyone around him: "Are you kidding me?" Nope, you are Olympic champion! This was the Best Moment of the Year too.
Simpson supreme again, Jenkins surprises at New Balance 5th Avenue Mile – Sept 3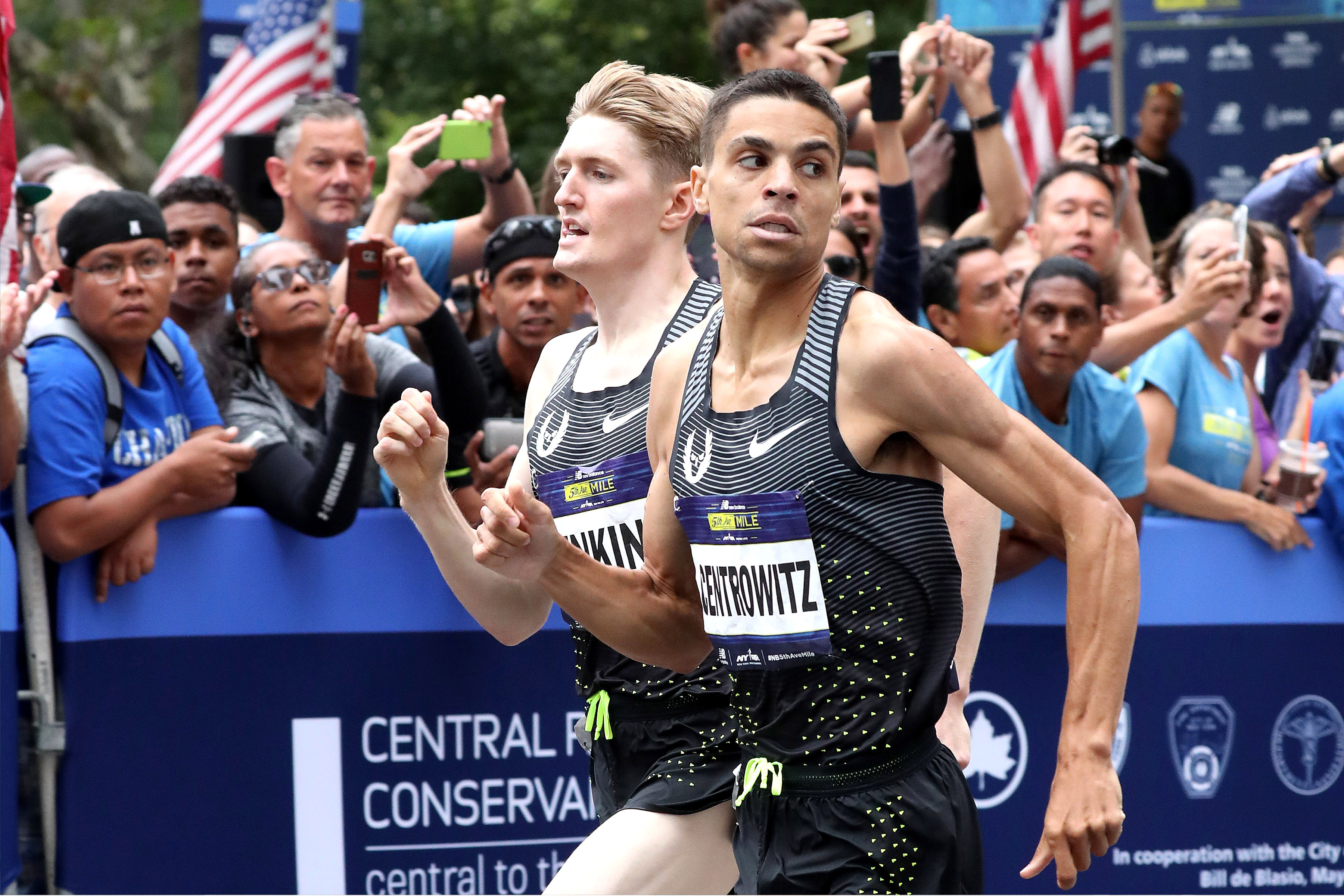 Jenny Simpson became the first 5-time winner – man or woman – in event history, while rising star Eric Jenkins (photo, right) shocked the field with his upset victory on the men's side at the New Balance 5th Avenue Mile, in 4:18.3 and 3:49.4, respectively. Simpson and Jenkins won thrilling races over runner-ups Great Britain's Laura Muir (4:18.4) and Olympic gold medalist Matthew Centrowitz (3:49.5). In addition, the 36th edition produced three women sub-4:20, two men sub-3:50 with a record 17 women sub-4:30 and record tying 17 men sub-4. Wow, what a race!
Efraimson shatters U.S. Junior Mile record – September 6
Alexa Efraimson, at the Palio della Quercia meet in Rovereto, Italy, shattered the outdoor U.S. Junior Mile record, clocking 4:27.39 to finish third overall against an international field. Previous record was 4:35.24 by Polly Plumer in Westwood, CA on May 16, 1982. Brava, Alexa! #AGT