Kampf Three-Peats, Masters Wins Bring Back the Mile Grand Prix Tour 2016 Titles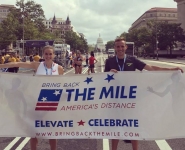 October 02, 2016
Grand prix tour with 6 stops awarded more than $125,000 plus $10,000 GP purse; Tour Performance-of-the-Year by Ben Blankenship & Emily Lipari; Running Warehouse's "Pick-the-Winner" contest engaged Mile fans at every event for third edition
SANTA BARBARA, Calif. – (October 2, 2016) – At the Bring Back the Mile Grand Prix Tour 2016 finale, with wins at The Navy Mile on Sunday in Washington, DC, Heather Kampf three-peated as Tour grand prix champion, while Riley Masters took home the men's GP title with 42 and 24 points, respectively, and earned $2500 each as GP champion. At the second edition, Kampf, 29, Inver Grove Heights, MN and Masters, 26, Seattle, WA covered the course on historic Pennsylvania Avenue in 4 minutes, 38 seconds and 4:04, respectively, to also shatter the event records.
"Congratulations to Heather Kampf and Riley Masters as the BBTM Grand Prix Tour 2016 champions, and like the past two editions, the Tour this year showcased some of the best Mile events in the country with thrilling racing action producing one state record and five event records," said BBTM Founder Ryan Lamppa. "A big thank you to the Tour events and athletes and Running Warehouse for supporting and celebrating the Mile."
The Tour 2016 featured 6 marquee Mile events from across the country, and the overall prize purse awarded for the six Tour events exceeded $125,000 plus a record $10,000 for the top 4 Grand Prix athletes. Per Tour event per gender, the top 6 scored points (10, 8, 6, 4, 2 and 1) with the top 4 scorers earning Grand Prix money ($2500, $1000, $750 and $500).
New this year: a $250 bonus for the Tour Performance-of-the-Year was awarded per gender to Ben Blankenship and Emily Lipari. Blankenship beat a top national championship field at the Medtronic TC 1 Mile, clocking an event record 3:55.8 and also earning a $10,000 bonus, while Lipari upset Queen of the Road Mile Kampf at the Minnesota Mile.
BBTM GP Tour 2016 champions and highlights:
4th Camel City Elite Mile
Winston-Salem, NC, Saturday, January 30
Matthew Centrowitz (USA / OR), 3:54.02, event record, North Carolina State indoor record and absolute state record
Shannon Rowbury (USA / OR), 4:26.01
11th Medtronic TC 1 Mile: USA Championship
Minneapolis, MN, Thursday, May 12
Ben Blankenship (USA / OR), 3:55.8, event record, $10,000 bonus
Heather Kampf (USA / MN), 4:34.2
2nd ServiceNow West Chester Mile
West Chester, PA, Thursday, August 11
Kyle Merber (USA / NY), 3:56.19, event record
Lauren Johnson (USA / OR), 4:31.33
10th Minnesota Mile
Duluth, MN, Sunday, September 11
Chris O'Hare (GBR), 4:02
Emily Lipari (USA / MA), 4:37
5th GNC Live Well Liberty Mile
Pittsburgh, PA, Saturday, September 17
Ben Blankenship (USA / OR), 4:02
Heather Kampf (USA / MN), 4:33, fourth event title
2nd The Navy Mile
Washington, DC, Sunday, October 2
Riley Masters (USA / WA), 4:04, event record
Heather Kampf (USA / MN), 4:38, event record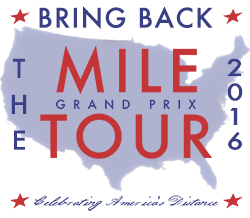 BBTM GP Tour 2016 Final Standings
MEN
1) Riley Masters (WA), 24 points, $2500
2) Ben Blankenship (MN), 20 points, $1250*
3) Ford Palmer (NJ), 18 points, $750
4) Graham Crawford (NC), 14 points, $500
WOMEN
1) Heather Kampf (MN), 42 points, $2500
2) Emily Lipari (MA), 22 points, $1250*
3) Lauren Johnson (OR), 21 points, $750
4) Christy Cazzola (GA), 20 points, $500
*includes $250 bonus for Tour 2016 Performance-of-the-Year
BBTM Grand Prix Tour Champions (2014-16)
2014 Jack Bolas & Heather Kampf
2015 Jack Bolas & Heather Kampf
2016 Riley Masters & Heather Kampf
Like past Tour editions, the Running Warehouse "Pick-the-Winner" online contest engaged Mile fans at each Tour stop. HOW IT WORKED: Fans predicted the closest winning time per gender for a chance to win a pair of shoes courtesy of Running Warehouse plus a BBTM prize package (one winning time award per gender). Also those who correctly picked the race winners were placed in a random drawing to win a BBTM prize package: one winner from the men's field and one winner from the women's field.
Visit bringbackthemile.com/tour or contact media@bringbackthemile.com for more BBTM Grand Prix Tour news and information.