O'Hare, Lipari Win 10th Minnesota Mile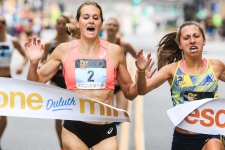 September 11, 2016
4th stop on Bring Back the Mile Tour 2016; two-time defending women's Tour champion Kampf adds to her standings lead; Crawford & Palmer tied for the men with two events remaining
From Grandma's Marathon
DULUTH, Minn. – Chris O'Hare, a 2016 Olympian from Great Britain, won Sunday's 10th Grandma's Minnesota Mile road race in downtown Duluth. O'Hare, 25, who lives in Boston, finished in 4 minutes, 1.6 seconds (4:02 official time) and claimed the champion's prize of $3000. Ford Palmer of Palermo, NJ was a close runner-up, clocking 4:02.0, while Seattle's Riley Masters was third in 4:02.5.
Emily Lipari, 23, of Brighton, MA pulled an upset in the women's race and also won $3000. The Villanova grad ran 4:36.9 to edge, right at the finish line, Team USA Minnesota member and Queen of the Road Mile, Heather Kampf, 29, of Minneapolis, who recorded a 4:37.0, while Christy Cazzola of Marietta, GA took third in 4:39.9.
"I was kind of shocked to see someone fly right by. She did a nice little silent assassin move right there," Kampf, a graduate of Rosemount (Minn.) High School and the University of Minnesota, said to the Duluth Tribune. "I had a sense that somebody might be coming and was just trying to run through the line. Just as I was two steps away, I'm like, 'I got it.' Maybe I relaxed too much right there, and there it goes."
The Minnesota Mile was also the 4th stop on the nationwide Bring Back the Mile Grand Prix Tour 2016. With two events remaining, two-time defending GP tour champion Heather Kampf leads the women's standings with 22 points and Ford Palmer and Graham Crawford are tied for the men with 14 points each. For Tour standings and more, visit: http://bringbackthemile.com/tour
A total of 514 people registered for the Minnesota Mile event that featured four separate divisions ― Minnesota Mile (Elite), Duluth Mile (Semi-Elite), All City Mile (Recreational) and the Verizon Kids Mile.
The Minnesota Mile is presented by Advantage Emblem & Screen Printing, Duluth News Tribune, Sasquatch Radio 106.5, Fitger's, Holiday Stationstores, Holiday Inn & Suites, Kemps, KBJR 6 & Range 11, Super One and Verizon.
10th Minnesota Mile
Bring Back the Mile Grand Prix Tour: 4th Stop
Duluth, MN, Sunday, September 11, 2016
MEN
1) Chris O'Hare, 25, Boston, MA, 4:01.6, $3000
2) Ford Palmer, 25, Palermo, NJ, 4:02.0, $2000
3) Riley Masters, 26, Seattle, WA, 4:02.5, $1500
4) Daniel Herrera, 23, Portland, OR, 4:03.4, $1000
5) Jordan McNamara, 29, Eugene, OR, 4:03.6, $800
6) Jack Bolas, 28, Chapel Hill, NC, 4:04.5, $600
7) Kirubel Erassa, 23, Grayson, GA, 4:04.5, $400
8) Abbabiya Simbassa, 23, Minnetonka, MN, 4:05.0, $250
WOMEN
1) Emily Lipari, 23, Brighton, MA, 4:36.9, $3000
2) Heather Kampf, 29, Inver Grove Heights, MN, 4:37.0, $2000
3) Christy Cazzola, 31, Marietta, GA, 4:39.9, $1500
4) Lauren Johnson, 29, Eugene, OR, 4:40.0, $1000
5) Morgan Uceny, 31, Newton, MA, 4:40.3, $800
6) Rachel Schneider, 25, Washington, DC, 4:42.1, $600
7) Katie McMenamin, 22, Lafayette, CO, 4:44.2, $400
8) Jamie Cheever, 29, Seattle, WA, 4:46.2, $250
For complete results, go to: www.grandmasmarathon.com