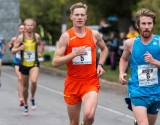 May 03, 2015
Northern Arizona Elite's Scott Smith is a highly versatile athlete having run 4:01 in the Mile all the way up to a 2:14:40 Marathon. He talks expectations for the Medtronic TC 1 Mile; 2nd stop on the BBTM Grand Prix Tour.
From Twin Cities in Motion
Scott Smith, who has the unique distinction...
Read More
comments