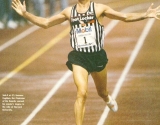 May 02, 2020
"I was able to go out on my terms by running the first sub-4 minute Mile at the age of 41. That was a big, big deal back in 1994."
By James McMahon, RTÉ Sport Journalist
From Drimnagh in Dublin to becoming a revered name in America for his exploits as an indoor runner, Eamonn Coghlan...
Read More
comments