A Crazy Speed Streak: Man Going for a Sub-5:00 Mile 105 Days in a Row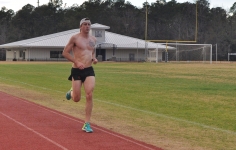 April 14, 2017
Pat McGregor, assistant track coach at Samford University, is trying to go at least one day longer than the streak his high school coach established in 1979.
By John A. Kissane, Runner's World
Although his competitive running career is behind him, Patrick McGregor, 26, is again hitting the track regularly. Daily, in fact.
Once during every 24-hour period, no matter where he is, the assistant track coach at Samford University in Birmingham, Alabama, finds a track and puts himself through the test of running a sub-5:00 Mile.
It's a habit McGregor started on January 2, and he's zeroing in on his initial goal of 105 straight days. Should he do so, he will eclipse the achievement of his high school coach, Devon Hind. Provided all goes well, McGregor will better Hind's record on Sunday, April 16.
McGregor has an impressive running résumé. He was a seven-time high school state champion in Alabama, and he was twice second-team All-American at the University of Texas. He graduated in 2013, then lowered his Mile PR to 3:58.7 while running professionally for the NJ/NY Track Club in 2014. He then decided to hang up his spikes and pursue a coaching career, and he has already seen success with that, too. Karisa Nelson of Samford won the NCAA indoor Mile title in March.
Continue reading at: www.runnersworld.com