A Rock Hill runner's painful pursuit of a sub-4-minute Mile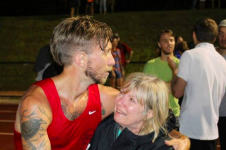 September 01, 2015
"The last couple of years, the odds have been stacked against him, but he's somebody that's put his head down and grinded through it. He'll not take no for an answer, and I mean that in a positive way."
By Bret McCormick, The Herald
It was about 9:20 on a Friday night in early August, and Brandon Hudgins was running again.
But he wasn't alone, training in the cool mountain air of Boone, N.C., or sprinting the steamy streets of Rock Hill. He was racing at Meredith College in Raleigh, where his mother, Emily, attended school.
This wasn't an ordinary race. Many of the spectators had been drinking and maybe a few were drunk. They stood on the track roaring on the runners, mere touching distance from them. It looked like they were closing in.
Hudgins was closing in on something too. With 200 meters to go, his close friend and coach James Snyder shouted, "You're under, you're under! Go get them!"
Four runners were in front of Hudgins. But he wasn't chasing them. He was chasing something else.
Continue reading at: heraldonline.com