Andrew Wheating: No asterisk needed this time around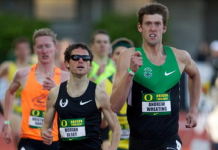 May 11, 2015
"I was trying to be this goofy, 20-year-old kid from 2008, but that's not who I am anymore. Everyone has to grow up. I'm still a child at heart, but I'm an adult now. I have to adjust to a different form of running."
By Austin Meek, The Register-Guard
Maybe it's a sign of how things have gone that the man with the cane approached the Olympian and asked how he's feeling.
Andrew Wheating smiled, because he feels great. The man with the cane is feeling OK.
"I'm glad you're running again," the man said. "Only thing that happened to me was I had a damn stroke. I mean, high blood pressure. I didn't know. I'm walking."
That was a typical exchange Friday at Hayward Field, where Wheating ran the 800 meters at the Oregon Twilight. It was his first race at Hayward since 2013, and naturally, everyone wanted to know how he was feeling.
That's a question Wheating is eager to answer. And this time, he swears, he means it.
"Standing in front of you guys, there's been times when I've said, 'I feel great, I feel great,' and there's an asterisk next to it every time I say it," Wheating said. "But this time, I feel great."
Continue reading at: registerguard.com