Angelina Jolie breaks the curse of 'Unbroken'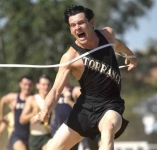 April 20, 2014
The amazing tale of Louis Zamperini remained untold on film for 56 years; "In the end, its message is one we all need now more than ever — the journey of a man finding his way through the darkness and into the light."
By John Horn, Los Angeles Times
OXENFORD, Australia — Angelina Jolie was ready to step behind the cameras again. Her directing debut, "In the Land of Blood and Honey," hadn't been a box-office or critical hit, but making the 2011 Bosnian war drama had fueled her desire to become a filmmaker. So Jolie started looking for a follow-up movie, knowing she had to choose carefully.
"I was very nervous," Jolie said about transitioning from acting into directing. "It was like starting over. All of the things that were in your favor before are no longer there."
Finally, in late 2012, she stumbled on a talent agency's log line for "Unbroken," a feature adaptation of the Laura Hillenbrand blockbuster bestseller about the Olympic runner turned World War II bombardier Louis Zamperini, who survived 47 days in a life raft only to be tortured for more than two years as a Japanese prisoner of war.
Jolie hurriedly took the idea to Brad Pitt.
"Oh, honey," her longtime partner told her, "that's been around forever."
Continue reading at: latimes.com