Athletics Weekly's 70th birthday: Moments in time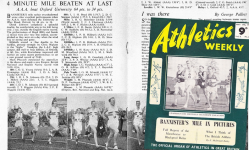 December 11, 2015
First sub-4 minute Mile one such memorable moment:
"So the Everest of athletics has been scaled, the sound barrier of running has been penetrated. Roger Gilbert Bannister, 25-year-old medical student, may never find the panacea for all ills the human flesh is heir to, but he has found the philosopher's stone of sport."
From Athletics Weekly
Athletics Weekly celebrates 70 years of the publication this month and we marked the milestone with a special celebratory edition on December 3.
Features inside include a look at the founding of AW, the development of the publication over the years and an article highlighting when we first mentioned some of the stars of the sport in our pages.
We also look back on some of the most memorable moments from the past 70 years and here they are, featured in no particular order…
First sub-4 minute Mile: History made
Helped by his training partners and pacemakers Chris Brasher and Chataway, Bannister scaled the Everest of athletics with a performance that is often described as the most significant athletics achievement of modern times.
AW's original report appeared in the May 15 issue in 1954 and was written by George Pallett, a British long jump international and athletics writer who died in 1996 aged 88.
Pallett wrote: "So the Everest of athletics has been scaled, the sound barrier of running has been penetrated. Roger Gilbert Bannister, 25-year-old medical student, may never find the panacea for all ills the human flesh is heir to, but he has found the philosopher's stone of sport."
On the closing stages of the race, Pallett continued: "An avalanche of humanity began to pour from the stands as Bannister was seen to draw out and begin the last, long pull to the tape; a slight lengthening of the stride, his arms driving harder to maintain the almost majestic cadence of his action – his fluent power gave no hint of fatigue."
Continue reading at: athleticsweekly.com