Banner Week in The Record Business: Aouita & Slaney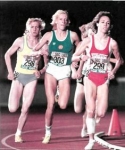 September 02, 1985
When it came up again, there was no expression there, nothing but running animal. She held her form.
By Kenny Moore, Sport Illustrated
Morocco's Said Aouita came flailing into the stretch of the 1500 meters in West Berlin's Olympic Stadium last Friday night looking as if his teeth were going to crack. His head seemed in danger of rolling right off. His arms were pumping so high, his fists were above his ears. When he crossed the finish line the clock had stopped at 3:29.45, indicating he had broken Steve Cram's 5-week-old world record of 3:29.67. Near the end of his victory lap he was in tears.
He hadn't wept when he won the Olympic 5000 meter gold medal last year, nor when he broke the 5000m world record in Oslo on July 27. But this was different.
To understand why, you have to begin 48 hours before, on a warm night in Zurich. There, Aouita, 24, had gone after Cram's 1500 and Mile (3:46.31) records in the same race.
Ireland's Frank O'Mara, the pacesetter, gave him a good three quarters in 2:50.59, two seconds faster than Cram had been at that point in his record Mile, also run in Oslo on July 27.
But by then Aouita had halved his double record hopes. "With a 2:50 you can forget about the 1500," he would say. "If it had been two seconds faster, then maybe. I was perhaps a glutton to try for two in one race. One cannot want a world record. The pace has to happen. Maybe I'll learn that. After a certain point, courage doesn't help anymore. A 54 you have to run."
Ah, but to break the Mile record all Aouita needed was a 55.7. In the final turn, however, the weight of his fatigue bore him down. "I was dead for the last 150," he said. A step past the line, he put his hands behind his head in dismay, for the time was 3:46.92. Cram's record was safe. At least for the moment.
"I would give anything for the Mile record," said Aouita as he left for Berlin.
Aouita was born in Kénitra, Morocco, 80 miles north of Casablanca. He took up running at 17 when he was judged too slight to continue in soccer. Now he lives in Siena, Italy, where he is, in his own words, a successful coach. Whom does he coach? "Why, myself," he says.
He speaks French and Italian, but no English, and seems to suffer in translation. His confident remarks often come across as more strident than intended. His competitors know better. "He's a gentleman," says two-time Olympic 1500 champion Sebastian Coe, "a man who makes you feel good about your sport."
Continue reading at: si.com/vault/
Mile WR progressions HERE.