Behind the Renaissance of American Distance Running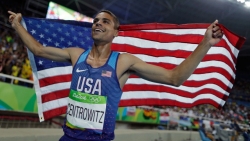 September 12, 2016
"Somewhere along the way we hit this critical tipping point where it really clicked. Now, every time an American steps to the line at an international competition... you're competing for a medal."
By Martin Fritz Huber, Outside Magazine
Unless you spent the second week of the Olympics distracted by the nocturnal escapades of certain swimmers, you probably noticed that Rio 2016 was one hell of a showing for U.S. middle- and long-distance runners. In events including and further than 800 meters, the American men and women combined for seven medals, their highest tally at an Olympics since 1912, when current distance powerhouse Kenya was still over 50 years away from becoming an independent republic.
One of the high points for Team USA came when Matthew Centrowitz used his tactical savvy and blistering closing speed to become the first American man to win the 1500 meters since 1908. "It was surreal to watch, to finally see an American dude do that after such a long time," U.S. Mile record holder Alan Webb told Race Results Weekly. "Somewhere along the way we hit this critical tipping point where it really clicked. Now, every time an American steps to the line at an international competition...you're competing for a medal."
This hasn't always been the case. In distance events, the medal tally at Rio equals the total number of medals won by Americans in the last six Olympics combined. Which raises the question: What happened?
Continue reading at: www.outsideonline.com