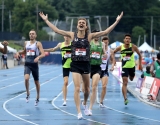 August 11, 2019
"It's something I do before I go to bed every night, watch a few videos so I can dream about it or something."
By Sieg Lindstrom, Track & Field News
USATF 1500 champion Craig Engels has trained primed with motivation aplenty since the 2016 Olympic Trials. A 4th (800) and a 5th (1500) in the...
Read More
comments