Meet Craig Engels, Race Video Fiend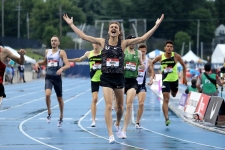 August 11, 2019
"It's something I do before I go to bed every night, watch a few videos so I can dream about it or something."
By Sieg Lindstrom, Track & Field News
USATF 1500 champion Craig Engels has trained primed with motivation aplenty since the 2016 Olympic Trials. A 4th (800) and a 5th (1500) in the qualifying meet for the sport's grandest stage make for rich incentive. The Nike Oregon Project Miler admitted as much after stepping up in Des Moines to outlean Olympic gold medalist Matthew Centrowitz by 0.04 for the 1500 win. "I don't want to talk about it," Engels half-joked, palming his head as he met the media afterwards. "Yeah, I got 4th-place twice [the '17 Nationals 1500 being the second] and last year I got 10th. This year I came in with a different mindset, different training, everything and I won it."
Naturally, Engels is, in his words, "super-stoked on it, and it's come together at the right time, right? Last year was an off-year, it didn't matter. This year is the World Championships year; I get to go to Doha, Qatar."
Engels feels ready now for global-level challenges after a few one-step-forward-two-steps-back oscillations in his progression since he raced a promising 4:03.96 for the Mile as a prep at Reagan High of Pfafftown, North Carolina. After a 1-year spell at NC State—at the end of which he won the Pan-Am Junior 1500—and then 3 seasons at Mississippi during which he took 3rd in the '17 NCAA 1500, he landed with coach Pete Julian at the Portland-based Nike Oregon Project.
The charismatic Mile star with the mullet says he is now the fittest he has ever been: "One, for the confidence, and two, I got to train with [Eric] Jenkins for the past 3 weeks [before USATF]. We were doing 5K workouts and I mean if I was solo I would not have been able to do those workouts. But he was there pulling me along. Unfortunately, he had to pull out of these U.S. Championships with an injury but he was the reason I got this fit."
Staving off Centro's attempt for a sixth Nationals win, "feels good," Engels said afterwards, "'cause I watched every single one of his race videos to be able to try and beat him. It's cool finally to beat one of the guys in the sport you've looked up to the whole time."
Continue reading at: trackandfieldnews.com