Bob Seaman reflects on Louis Zamperini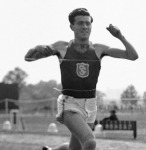 March 02, 2015
Six months after Seaman broke Zamperini's long-standing high school record, the two began a casual acquaintance over the years.
By Jon Earnest, The Exponent
Former Reedley resident Bob Seaman and Louis Zamperini, the inspiration for "Unbroken," always will be linked in the sport of track & field.
It was Seaman who broke Zamperini's national high school record for the Mile run, when the Reedley High senior posted a time of 4 minutes, 21 seconds to win the state championship in May 1953 at Fresno's Ratcliffe Stadium.
Seaman remembered his running brethren while watching the Feb. 23 Academy Awards show from his home in Wilmington in Southern California. "Unbroken," based on the Laura Hillenbrand-authored biography, was nominated for Oscars in cinematography and sound editing. It lost in both categories.
"I have many memories of Lou," Seaman said. "When he died [in July 2014], there was no mention in the sports pages. It was something that was across the front pages of all the newspapers here."
Continue reading at: reedleyexponent.com