Bolas, Grunewald once again champions of the Minnesota Mile in Duluth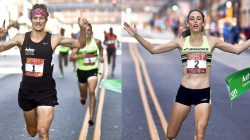 September 14, 2015
"Anytime I do get a chance to run a full Mile, I do think that's special because it's such an iconic distance."
By Matt Wellens, Duluth News Tribune
Gabriele Grunewald didn't let cancer stop her from running when she was first diagnosed with adenoid cystic carcinoma in 2008.
Instead, she went out the next day and ran a personal best in the 1500 meters.
Two years later, Grunewald was diagnosed with thyroid cancer. That didn't stop the University of Minnesota graduate, either. A year after that diagnosis, she had lowered her 1500 PR to 4 minutes, 6 seconds.
So there was no stopping Grunewald from winning a second Grandma's Minnesota Mile in three years on Sunday in downtown Duluth.
The 29-year-old crossed the finish line in 4:38.0 after running the fastest Mile ever run by a woman in Minnesota in 2013 in 4:21.3. Monicah Ngige of Kenya was second in 4:43.3.
Grunewald finished second in the 2015 Bring Back the Mile Grand Prix Tour standings — earning her a total of $4000 — to Heather Kampf of Minneapolis, who didn't run Sunday in Duluth because she already had clinched the four-race Grand Prix title for the second year in a row.
Continue reading at: duluthnewstribune.com