Brandon Hudgins Overcomes Rare Disease to Break 4:00 Mile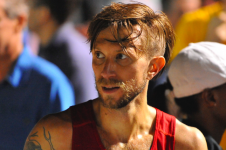 August 19, 2015
After three bouts of an autoimmune disease in eight years, Brandon Hudgins runs a 3:59.67 Mile at the Sir Walter Miler.
By Alison Wade, Runner's World
On August 7, Brandon Hudgins, 28, of Boone, North Carolina, became the 448th American to break 4:00 in the Mile, and most likely the first to do so after overcoming Granulomatosis with Polyangiitis (GPA), a rare autoimmune disease that affects the blood vessels.
Hudgins' 3:59.67 fifth-place finish in the Sir Walter Miler in Raleigh marked the culmination of a journey that has included three bouts with the disease, which is treated with chemotherapy and high doses of corticosteroids, in eight years.
Hudgins, who says his sub-4:00 Mile is a "dream come true, but something I always knew I could do," struggled to hold back tears in his post-race interview, as he talked about what it meant to accomplish a lifelong goal in front of family and friends after overcoming what seemed like insurmountable obstacles at times.
Continue reading at: runnersworld.com