Breaking the 4 Minute Mile in Santa Barbara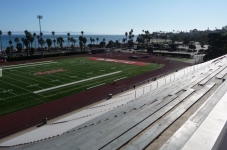 April 11, 2018
Led by 2012 Olympic 1500m silver medalist Leo Manzano and Kyle Merber, six runners boast sub-4 Mile credentials in quest to break 4 minutes on the track for the first time in the city
By John Zant, Santa Barbara Independent
Man's first conquest of the 4 minute Mile barrier will soon be 64 years old. It's about time somebody ran at a faster pace than 60 seconds for four laps around a Santa Barbara track. It's also timely that it could happen six weeks after the death of Roger Bannister, whose epic 3:59.4 clocking made history on May 6, 1954.
"Sir Roger, may he rest in peace, broke a mental barrier," Leo Manzano said. "People thought their heart would explode and they'd die trying to go sub-4. Once he broke through, more and more guys started doing it."
Track & Field News has compiled a list of 514 Americans who have run the Mile faster than 4 minutes on outdoor and indoor tracks. Nobody has ever officially accomplished the feat in Santa Barbara County, despite its being such a mecca for runners in training that legend Jim Ryun, the only U.S. male Miler to break the outdoor world record in the past 50-plus years, lived here for a decade.
That empty box in Santa Barbara's athletic history could be checked Friday night, April 13. A strong field of Milers will toe the starting line at SBCC's La Playa Stadium in a quest to tear down the 4 minute wall.
Manzano is one of the favorites to hit the finish line first. The 33-year-old Texan has compiled an impressive résumé in middle-distance racing, clocking a personal record of 3:50.64 in the Mile in 2010, and taking the silver medal in 1500 meters at the 2012 London Olympics.
HOKA ONE ONE, the locally-based running shoe company, is Manzano's sponsor as well as the title sponsor of four elite running events on La Playa's Nick Carter Track.
Continue reading at: independent.com