Bronxville's Mary Cain falls short in bid for 1500 meter Olympic spot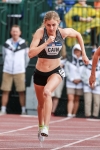 July 12, 2016
"At the end of the day, she's 20-years-old and going up against three medalists in the peak of their careers."
By Nancy Haggerty, The Journal News
Mary Cain, the former Bronxville High School runner who turned pro while still in high school, will have to wait another four years for a crack at the Olympics.
The 20-year-old ran 4:13.45 to finish 11th in the finals of the women's 1500 at the Olympic Trials in Eugene, Oregon Sunday.
Cain's best time at that distance, 4:04.62, came in 2013 while she was surging to near the top of the running world and expectations were immense.
Her 2013 time would have gotten her gold and a ticket to Rio Sunday. The winner, Jenny Simpson, who represents New Balance, clocked 4:04.74.
Two other runners qualified for this summer's Olympics. Shannon Rowbury, Cain's Nike Oregon Project teammate, finished second with a time of 4:05.39, after emerging as the top qualifier out of the semifinals at 4:10.24. New Balance's Brenda Martinez ran 4:06.16 to qualify in third place.
Continue reading at: www.lohud.com