Catching Up with Brooks Beast Katie Mackey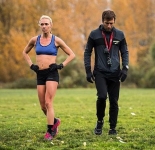 April 07, 2018
Without an amazing "pit crew" of selfless individuals who have supported me, there's no way I would have made it this far!
From AthleteBiz
Katie Mackey raced to an eighth place finish in the 3000m at the World Indoor Championships earlier this year, securing herself as a top competitor among the world-elite. But, if that's all you know, then you don't know Katie. She is a dynamic health advocate, youth wellness leader, family-focused, faith-driven individual, and of course, a force on the track. We caught up with Katie to talk about her 'pit crew', what keeps her pushing day-in and day-out, and more.
AthleteBiz (AB): It is so refreshing to hear you repeatedly emphasize how important your training partners, teammates, husband/coach and Brooks is to your personal growth and athletic success. Can you share more about how all these factors have combined to bring you where you are today?
Katie Mackey (KM): Running is often portrayed as a solitary sport, and of course it can be that way at times, but I really believe that if it wasn't for the Brooks Beasts I wouldn't be enjoying what I'm doing enough on a day-to-day basis to still be professionally running 8 years after I started! I'm a big believer that to get the best out of yourself consistently over time, you need to be having fun. My teammates make the grind of training something I look forward to every day, even if my body isn't feeling great or I don't feel super motivated. And chances are, if I'm not feeling great, someone else is and they can encourage me that day, and when I have days that I'm feeling good I can encourage them. When you're training for hours together every day without phones or any distractions, and living together for weeks at altitude camps, you get to know each other on a deep level and can really come alongside each other in a unique way that I love. It's like a family. There was nothing more rewarding than watching Drew work so hard at practice and then put it all together at Worlds to bring home that silver medal! The excitement and energy just bleeds into the team and brings the best out of everyone.
Continue reading at: athletebiz.us