Coaching legend George Gandy dies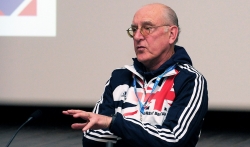 October 08, 2020
Loughborough-based endurance running expert's British athletes included Seb Coe, Jack Buckner, Jon Brown, Wendy Sly and Lisa Dobriskey
By Jason Henderson, Athletics Weekly
George Gandy, the prolific British endurance running coach best known for his work with athletes at Loughborough University, has died following a heart attack aged 80.
His experience spanned 10 Olympics, 11 World University Games and five Commonwealth Games, while he was also national endurance coach from 1992-98 and 2009-13.
In distance running and student athletics circles, he was nothing short of a legend.
He coached Jack Buckner to the European 5000m title in 1986 and Jon Brown to fourth place in two successive Olympic marathons in 2000 and 2004.
Notably, Seb Coe also came under his wing in the mid-1970s and Gandy's infamous circuit training sessions helped create the kind of strength and speed that would propel him to three world records in 41 days in 1979.
Since 1971 until now Gandy has been synonymous with athletics at Loughborough. Yet his purple reign of almost half a century came to an end on Thursday, October 8 after he suffered a heart attack following minor surgery.
Born in Newcastle on May 10, 1940, Gandy was a talented runner himself setting Northumberland county age group records at 880 yards and the Mile and being ranked #2 in the North of England in the Mile as an athlete for Gosforth Harriers. He went to St. Cuthbert's Grammar School in Newcastle and then St. Mary's College in south London where he set a college Mle record and led teams to two victories in the European Universities Catholic Cross Country Championships.
In an interview with I two years ago, Gandy recalled: "While there (St. Mary's) I became cross country and athletics captain and I think that was the first time I got into telling other people what to do and how to do it. I gained a variety of coaching awards and in my final year at St. Mary's I was a member of the British Milers' Club as a runner.
"They knew I was going back to the North East to teach. Somebody got in touch with me and asked if I would make contact with two young lads in South Shields with a view to continue to coach them when I went back there, so I did that. That was probably the beginning of it for me."
Continue reading at: athleticsweekly.com
Tributes to Gandy HERE.