Seb Coe on the training that led to his 1979 world record spree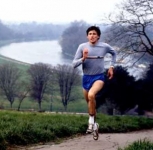 October 30, 2019
"Make every session that you do count – even your recovery runs. Never do sessions just as 'fillers'."
By Matt Long for Athletics Weekly
By August 15 in 1979 the most remarkable 41 days in the history of middle-distance running were complete. In breaking Filbert Bayi's 5-year-old world 1500m record, Sebastian Coe had not only surpassed the exploits of the great Tanzanian, but also erased Alberto Juantorena's 800m and John Walker's Mile marks. For Coe, it was truly a magical summer.
In a former AW feature we trumpeted Coe's achievements and if the runner's 1979 legacy left us with three memorable records, four decades on there are at least three corresponding lessons which we can reflect on in performance terms. Lessons which can help you as athlete or coach.
Quality over Quantity
To Matt Long, an England Athletics coach education tutor, Coe explains: "It doesn't happen overnight. Find yourself a coach and trust in them. Remember coaching is as much an art as it is a science.
"By all means consult scientific tools but as an athlete don't allow yourself to become a guinea pig at the expense of a sports scientist. There's a lot to be said for good, intuitive coaching."
Coe's coach and father Peter once famously said: "The quality of what you do is much more important than the quantity. Why pound the life out of a young runner when you can develop it with quality? This does not mean that Sebastian neglected his aerobic development, which was achieved as a junior through extensive cross country running in both training and competition."
Coe senior was ahead of his time in recognizing the considerable demands that middle distance events have, not only aerobically in terms of cardiovascular response but critically on the lactate (anaerobic) energy system.
"Long, slow distance running creates long, slow runners. If speed is the name of the game, then never get too far away from it," is the way Coe senior put it.
When I remind Seb of this philosophy, he concurs that: "Quality and intensity are key."
The approach engendered into Coe junior would be termed high intensity training in today's language. The aim of the key sessions would be to allow Coe to become habituated to working around the lactate turn-point, thus training the transporters to utilise lactate as a productive energy source whilst removing lactic acid from the muscles.
A Systematic Approach to Pacing
"Don't do anything you can't measure. Make every session that you do count – even your recovery runs. Never do sessions just as 'fillers'," Coe explains adamantly.
Both Coe senior and junior were fans of the system advocated by the late BMC founder, Frank Horwill, with sessions over five different paces used over a specified training microcycle.
Continue reading at: athleticsweekly.com