Coach's Mile challenge attracts runners of all ages during quarantine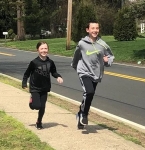 April 15, 2020
"They've been robbed of opportunities. This is a little carrot to get them out there."
By Nancy Haggerty, Rockland / Westchester Journal News
Gilby Hawkins had an idea.
With high school spring sports on hold and potentially canceled and runners at home, he wanted to give his Pearl River track & field athletes a little incentive as they trained.
He decided to issue a challenge: Run a Mile and time yourself. His runners would then text him their information.
But, before putting it out, Hawkins thought, "I bet (Tappan Zee coach) Pat Driscoll will want to get in on it."
"He loved it," Hawkins recalled. "He said, 'I bet (Suffern coach) Jeff Dempsey would really like it.' "
Then Pearl River girls coach Shannon Flood thought of Clarkstown South's Pete Modafferi.
And so on and so on.
The "so on" led to results Hawkins couldn't imagine. That led to plans for more weekly challenges.
One-hundred thirty-five people reported back to Hawkins that they'd run a Mile. And these were not just high school kids.
The runners included one 9-year old (Dempsey's daughter, Caitlin) and one 78-year-old, (long-retired Clarkstown South coach Art "Doc" Lebofsky), as well plenty of people of all ages in between, including coaches.
Some simply told Hawkins they ran.
Others gave him a time — Caitlin and her brother Andrew, 12, both ran 7:04. Lebofsky clocked in at 12:56.
Continue reading at: lohud.com