McGee, O'Hare sprint to wins at 6th Sir Walter Miler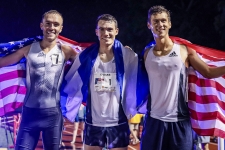 August 02, 2019
Two women go sub-4:30, eight men clock sub-4 minutes in the rain
By Pat Price, Sir Walter Running
RALEIGH, N.C. – After an hour weather delay on Friday evening, in steady rain, the Meredith College track and Sir Walter Miler atmosphere delivered yet again. In the women's race, a sprint finish between Cory McGee and Lauren Johnson resulted in sub-4:30 performances for both women, with McGee taking the victory in 4:27.87, followed by Johnson in 4:28.14.
"I'm really grateful for the Raleigh fans, and really the state of North Carolina for always making a track meet feel like a fun party," said McGee, continuing "immediately I looked around at the crowd and it was as exciting as every year past. This was my third year here, and it didn't feel that much different, even considering the weather."
At the 6th edition, taking a big swing at the 4:30 barrier, in third, was recent Notre Dame grad Jessica Harris, finishing in a personal record of 4:30.03. Harris was followed by Rebecca Mehra who ran her way to a 7 second best of 4:33.42.
In the men's race, the fastest pace request in Sir Walter history resulted in fast times. Chris O'Hare and Sam Prakel battled the whole way, finishing 1-2 in 3:54.81 and 3:54.90, respectively, while Eric Avila took third in the race with a time of 3:55.75, completing an adidas sweep of the podium.
"The crowds probably cancelled out the conditions, and it's a bit easier for us to get after it when they are screaming in our face," said O'Hare.
The pair led a total of 8 men under the coveted 4-minute mark, including first-timer, James Quattlebaum, the 2019 Pop Up Miles Champion.
"It validates a lot... my grandfather's death inspired me a lot to go out and do what not many people have done," Quattlebaum said, explaining the breakthrough over a year out of college. Quattlebaum's time of 3:58.62 makes him the 12th first time sub-4 Miler in Sir Walter Miler history. This follows a 40-year period featuring zero sub-4 minute miles in Raleigh, dating back to 1974. Sir Walter Miler has now 47 sub-4 minute Mile performances since its founding in 2014.
"This was a world class event, and it had a small town feel with that flair of being some of the best runners in the world – and the best fans in the world," said announcer and 2004 Olympian Carrie Tollefson, who was the 29th American female to break the 4:30 barrier.
The night started with the Croc-O-Mile and 4x400m Relays. First up in the Croc-O-Mile, where all athletes donned Crocs, AJ Tucker took the overall win, and Sarah Rapp took the Women's win in 4:35.53 and 5:12.38, respectively. In the Run Club 4x400m relay, the Bond Brothers Beer Co. team won with a time of 4:04.52. They were followed by Runologie and Life Time Cary to round out the podium.
The event also featured pre- and post-race parties hosted within walking distance of the track at Raleigh Brewing Company. Wicked Weed Brewing (Summer of Miles Pale Ale) and Raleigh Brewing (Sir Sandman Kolsch) which brewed exclusive, runner-friendly beers to raise money for the Kay Yow Cancer Fund. The event also featured Bo's Kitchen and Tacos Mama Chava food trucks in the Raleigh Brewing parking lot as well.
The Sir Walter Miler is directed and promoted by Sir Walter Running, a Raleigh-based 501(c)(3) nonprofit organization whose mission is to "bring the Greater Raleigh running community together through innovation, activation, and inclusivity."
6th Sir Walter Miler
Raleigh, NC, Friday, August 2, 2019
MEN
1) Chris O'Hare (GBR), 3:54.81, $1200
2) Sam Prakel (WA), 3:54.90, $950
3) Eric Avila (CA), 3:55.75, $600
4) Robert Domanic (TX), 3:57.34, $350
5) Patrick Joseph (CO), 3:57.62, $200
6) David Ribich (WA), 3:57.83, $100
7) James Quattlebaum (SC), 3:58.62, $400 (first sub-4 bonus)
8) Donnie Cowart (NC), 3:59.89, $100
9) James Randon (MA), 4:00.89
10) Aaron Templeton (SC), 4:01.16
11) Darius Terry (CA), 4:08.02
12) Craig Nowak (SC), 4:08.83
WOMEN
1) Cory McGee (CO), 4:27.87, $1200
2) Lauren Johnson (MA), 4:28.14, $850
3) Jessica Harris (MD), 4:30.03, $400
4) Rebecca Mehra (CA), 4:33.42, $250
5) Heidi See (AUS), 4:33.85, $100
6) Millie Paladino (RI), 4:34.26
7) Stephanie Garcia (CA), 4:35.31
8) Heather Kampf (MN), 4:38.85
9) Taryn Rawlings (OR), 4:42.71
10) Sammy George (NC), 4:43.86
11) Therese Haiss (CA), 4:57.92
PHOTO: Jason Honeycutt