Dark Horse and The Mile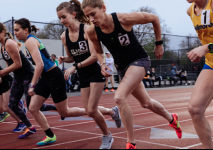 May 24, 2017
I never want to do that again... but by the time I make it back to my spike bag I'm already thinking about the next time I'll get the chance to race, and it can't come soon enough.
By Lauren Henkel for Tracksmith
On a chilly April Friday night, the North Brooklyn Runners hosted an early season twilight meet of their own under the lights at McCarren Park track. Lauren Henkel, a college coach and former high jumper turned middle distance runner, decided the Monday before to race the Mile. Coming off a couple weeks of "pangs and twinges" that hindered her training, she entered the race to push herself out of her "training zone comfort" and to "get back out on the track." It was a classic twilight meet scenario: an opportunity for an athlete to toe the line, free of everything except personal stakes. This is her story.
Lauren Henkel: Throughout the season, for many races I know more or less who I'll be racing against, especially racing the same key races each year. I'll come up against familiar faces at the Armory, BU, Ocean Breeze, Icahn, and Princeton, then comes a race where the performance list isn't available prior to arrival.
Upon arrival and while warming up I scan the crowd and look for familiar faces but don't know who amongst them will be on the line with me until we all gather to be seeded.
I need to be ready for anything and anyone, have no expected time, just the goal to compete and win.
Continue reading at: www.tracksmith.com