Daughter of Roger Bannister photographer recreates iconic image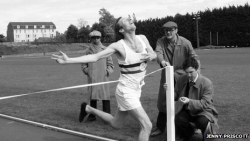 May 16, 2012
The daughter of a photographer who captured Roger Bannister's four-minute Mile has recreated his iconic image.
By BBC News
OXFORD - Jenny Priscott, from Didcot, copied her father Ivan Sansom's picture when a theatre show retold the record-breaking event at Iffley Road Track, Oxford.
Mr Sansom, known as Sammy, was an Oxford Mail press photographer when he snapped the athlete cross the finishing line in 3 minutes 59.4 seconds.
His image became famous as it was the first one published, Mrs Priscott said.
Ivan Sansom captured the iconic image of Roger Bannister crossing the finishing line.
"As mum recalls it there was a whisper that he [Bannister] was going to try for it at some stage so dad kept his ears open like press people do," said Mrs Priscott, an amateur photographer herself.
Continue reading at bbc.co.uk