Ex-Oregon Runner AJ Acosta Soldiers On, With a Beard and Without a Sponsor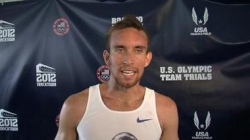 April 29, 2013
By Ken Goe, The Oregonian
Former Oregon star AJ Acosta still is living the dream, even if all he has to show for it is a beard and some beat-up running shoes.
"I have about 700 miles on my current pair of shoes," Acosta said. "I'm trying to scramble to get a pair that I don't have to pay for."
Without sponsorship or any sort of apparel deal, free shoes are no longer a guaranteed part of the equation for Acosta, 25, who is operating in the netherworld of professional track & field.
He clocked his personal record in the 1500 meters last year, 3 minutes, 36.41 seconds, which put him in the top 20 on the 2012 U.S. list.
Nagging injuries were an issue, and athletes paying out of pocket for massage and physical therapy tend to have more nagging injuries.
Acosta is part of a loaded Mile field for Sunday's Re: Run meet in San Diego's Balboa Stadium. The field also is expected to include David Torrence, Ryan Gregson, Donn Cabral, Cam Levins and Jordan McNamara, among others.
Continue reading at: oregonlive.com